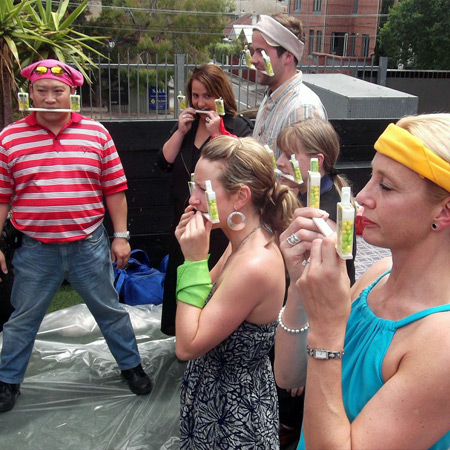 Minute To Win It
Full of excitement and nail biting 60 second challenges
Teams need to consult amongst themselves and delegate tasks accordingly
Improves team communication skills, strategies and boosts morale
Perfect for the evening of a conference or a team development day
Based in Hong Kong and available to perform at events worldwide
Minute To Win It is full of excitement and nail biting moments as the teams battle it out in a series of bizarre 60 second challenges. This activity is perfect for the evening of a conference or a team development day during dinner or pre-dinner drinks.
As the facilitators reveal each challenge, teams must consult amongst themselves and decide which team member is best suited for the task. While its lots of fun, it does also have the additional benefits of improving team communication skills, creating a team strategy and improving morale while team members get to know each other outside of the usual work environment.
Throughout the program facilitators will be updating the points board to let the teams know what position they are in. There will also be a few other challenges and bonus activities on offer to allow teams to pick up extra points, keeping the Minute To Win It challenge alive until the very end.
In addition, due to its modular design, the challenges can also be split into smaller time slots throughout a day of activities, at points when participants need to be re-energised.
Ci Events
GVST Event Management
Luminous
Messe Frankfurt
Reed Exhibitions
Banking Financial Services & Accounting:
Allianz Global Investors
AXA
BNP Paribas
BOC
Clerical Medical
CITI
DBS Bank
Deutsche Bank
Auchan
Coca-Cola
Elsevier
LSG
Montblanc
Philips
SONY
Triumph
High-end fashion and Lifestyle:
Coach
GAP
Hugo Boss
ImagineX
Kerring
Navalus
Air New Zealand
Destination Asia
Fortune Travel
Global Travel Services
IHG
JW Marriott
Logistics:
Brink's
CSAV
FedEx Express
Kroll
Advertising Event Management and Marketing:
DDB
Jack Morton
MCI Group
Quadrant
ACE Insurance
American Century
Barclays Capital
BNY Mellon
Calyon
CLSA
Credit Suisse
Deloitte
DHR
Consumer:
Asia Pacific Brewery
Danone
Fonterra
McDonald's
Pepsi
P & G
Starbucks
Chanel
Dior
Givenchy
Ikea
Joyce Boutique
Lane Crawford
Tiffany & Co
Hospitality and Travel:
BP SHA
Eaton Hotel
Frasers
Hilton Singapore
Intercontinental Hotel & Resorts
Bernhard Schult Ship management
Cargotec Asia Ltd
Expeditors
HIT
Kuehne + Nagel
And Many More
Bing Corporation
" The activities provide our participants professional team building experience. It's so enjoyable and interactive. The facilitators are so passionate and enthusiastic. We are delighted to receive such innovative training. "

AIESEC in Hong Kong
" The activity is inspiring and really demonstrated what having a common goal and effective communication and collaboration can do. There was lots of good discussion during the debrief which provided some insights and action points that was immediately applicable back at the workplace. "

Johnny Song, General Manager, Abbott Laboratories China
" We have used these workshops several times and all events have been very successful. They have always been very professional and the events we have undertaken achieved their goals. "

Robin Parbrook - Head of Asia Equities (Former CIO) Schroders Investment Management (HK)
" Team building activities were fun-filling and simulating. Promotes creative thinking. "

Dave Tan Hun SiongLam research
" Minute to win it did an excellent job to motivate our team. "

Dorothy Yip - Executive Secretary, HSBC Insurance