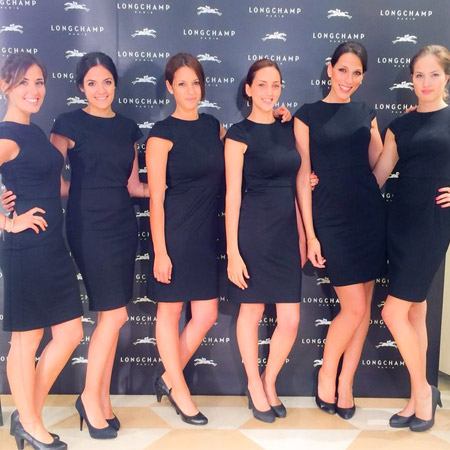 Models & Event Hosts Barcelona
Promotional girls, models, hostesses and event staff available worldwide
Bilingual speaking male and female comperes will make your event stand out
Deliver services to your guests with elegance, courtesy and discretion
Previous clients include: Bacardi, Red Bull, Porsche & many more...
Based in Barcelona, Spain & available to perform at events worldwide
Models & Event Hosts Barcelona PHOTOS
Our high-end models and event hosts based in Barcelona will add the perfect finishing touch to your event. Available to deliver services and key duties throughout your event. The male and female event staff will take care of your guests with elegance, courtesy and discretion in order to create the very best experience for your guests. 
Suitable for corporate events worldwide, the bilingual speaking event hostesses and hosts can be selected based on your specific event requirements to ensure you have the correct staff for your event. With the ability for hosts to speak in multiple languages, they can interact and engage with guests throughout your event to create the desired ambience, and provide the best service for events all over the world. Having previously worked for top brands including Porsche, Bacardi and Red Bull they are used to catering for international clients. 
The exceptional hosts and hostesses will impress guests with their professionalism and attention to detail. If required hostesses can wear selected outfits or uniforms for your event to ensure the correct presentation for your event. Above-all their flexibility means we will be able to provide you with the very best in event staff. Enquire today about bringing our fantastic hosting team to your next event.
Bacardi
Biostehetique
Campofrio
Carrefour
Cinesa
Citroen
Cosmo Belleza
Dulcesol
Event Newwork
Freeman
Frimancha
Hyundai
L'O'Real
Manago
Porsche
Revlon
Schwarzkopf
Suzuki
& many more...
Ankama
Bestlap - F1 events
Campeny
Caprabo
Cebada
Circuit De Catalunya
Clarion
Danone
Elpozo
Ferrari
Freixfenet
GT Sports
Kelloggs
Lucky Strike
Noel
Red Bull
Sassoon
Seat
Toni&Guy
Auriga