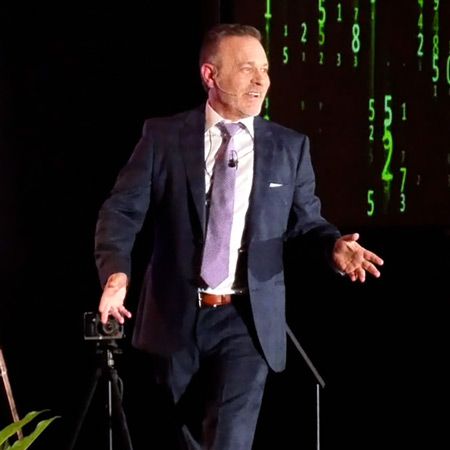 Motivational Keynote Speaker US
Entertaining and engaging, our celebrity voiceover artist offers keynotes in sales and leadership plus the art of motivation
Using over two decades of experience, this top-selling author shows guests how to collaborate, be more creative and embrace change
Learn how to influence customers by connecting to them on an emotional level; discover how to read body language and improve your leadership
Talks include audience interaction and even some mentalism, as our speaker shows you how to communicate with and motivate your workforce
Based in Florida, our motivational keynote speaker is available to bring his fun and educational talks to seminars and events worldwide
Our motivational speaker offers two keynotes covering two main key areas: motivation and communication.


THE MAGIC OF THINKING DIFFERENTLY - Motivational Keynote
In this engaging, motivational keynote, our entertaining speaker uses experiences gained in his 20-year career as a voice actor and star of one of the top global media franchises.
Drawing from his best selling book, our host uses personal stories and interactive illusions with the audience to show how powerful communication, collaboration, and creativity can be when you decide to think differently and embrace any change.
Highlights
• How to be more influential by speaking with your true  voice
• The value of teamwork and collaboration
• Using creativity to solve problems and create innovative solutions
• How to overcome fear and communicate confidently
THE MAGIC OF COMMUNICATION - Keynote for Sales and Leadership Development
Traditionally a preserve of broadcasters, actors, and politicians, the ability to speak with influence and communicate with confidence helps your level of success as a leader. 
It is not what you know or how you use words but how you make people feel that matters. Help sales and leadership by connecting with people on an emotional With improvements in communication, you will be able to drive their customers' or colleagues' decisions making and convey your message more effectively.
Our celebrity voice actor will show you how you can speak with influence, communicate confidently, and improve your leadership.
Highlights
• How to speak with influence and get people to listen to you
• Learn to improve your body language and discover how to read others better
• Communicate with confidence in front of groups
• How to get people to like, know and trust you 
• Overcome fear of public speaking
Deloitte
Condé Nast
The Million Dollar Round Table
" We just had [him] present at our virtual conference and he was fantastic! Highly engaging, professional and great to work with. "

Adobe
" [He] set the perfect tone for our Innovation Summit. He inspired creativity, shared practical business advice, and made the meeting fun. "

Deloitte
" [He] just presented at our Global Summit. He was phenomenal. Really resonated with the audience. "

Uber
Communication - Sales and Leadership