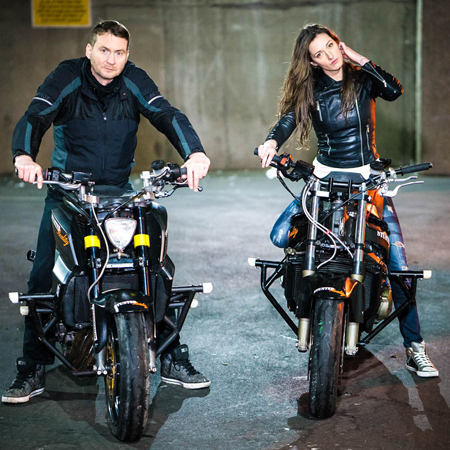 Motorcycle Stunt Riding Duo
Male and Female Stunt Motorcycle Riders with over 13 years of experience
Can perform wheelies and ride their motorbikes stood up without using their hands
This stunt duo has over 250,000 social media followers and know how to work huge crowds
Perfect for brand and product launches
Available to hire in London and across the UK
Motorcycle Stunt Riding Duo PHOTOS
Fast, fun and furious, our male and female Motorcycle Stunt Riding Duo has over 13 years of stunt riding experience between them. Our London stunt duo has wowed crowds all over the UK and is the best in the business when it comes to stunt riding hire in the UK. 
This motorcycle stunt riding duo wow crowds as they wheelie stand on their motorbikes and perform stoppies on the front wheel, all while on the same motorbike.
Our motorcycle stunt duo is constantly pushing the boundaries of male and female stunt riding, the couple can even stand on the petrol tank of their motorbikes while holding both of their hands up in the air for over 10 metres at a time. 
You may have seen somebody perform a wheelie on a motorbike in the past, but you would have never seen a wheelie executed with such precision, elegance and skill while standing on the back fender. If that doesn't blow your socks off, then wait until you see our female stunt rider perform burnouts and wheelies without her feet touching the motorcycle. 
Our London based motorcycle stunt riding duo is the perfect entertainment option for sports events, brand launches, carnivals and family fun days. If you have an event coming up where you could use some loud, fast two-wheeled action, then this is the entertainment option you need to hire. 
Scarlett Entertainment has a whole host of speciality and novelty acts that are available to hire for events across the Globe and in London, UK.
Please contact one of the Scarlett Entertainment team if you would like to hire our male and female Motorcycle Stunt Riding Duo and they will help you through the process.
" One of the slickest, sexiest and stunning stunt teams in the UK today. They are a great team to work with, very professional, competent and dynamic and are fast becoming the hottest street stunt team in the UK. "

Howard Martin Director BEXHILL MotoFest and Bike1066 Events