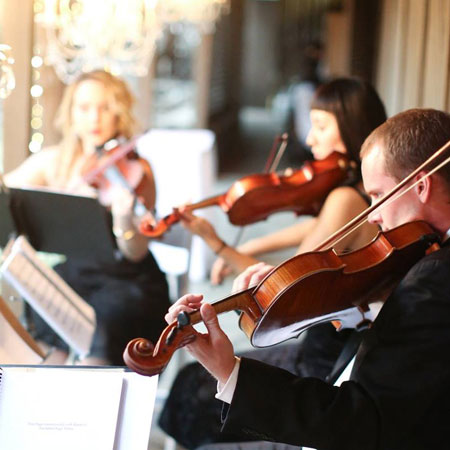 Multi-Genre String Quartet
Multi-Genre String Quartet who cater to a varied range of live events
Have worked with Stevie Wonder, Macy Gray, Barbara Streisand & Karyn White
Perform everything from Classical, Jazz, Rock, Pop, World and Jewish
Offers a variety of other ensembles, including trios, duos, and soloists
Based in Los Angeles and available to perform at events worldwide
Formed in 2006, the Multi-Genre String Quartet is a professional music group that caters to a varied range of live events all over the USA and beyond!
Performing a diverse range of musical genres, the quartet performs everything from Classical, Jazz, Rock, Pop and World through to Jewish songs, Christmas carols and Hymns.
Each of the players hold degrees from San Francisco Conservatory of Music and have worked with many high-profile artists such as Stevie Wonder, Macy Gray, Barbara Streisand, Karyn White, Natalie Cole, and more.
In high demand, the quartet was the featured music group on KCAL 9's 2011 special-edition wedding episode and recently appeared on the season finale of BRAVO's Millionaire Matchmaker.
Even though the quartet is the most popular group, the Multi-Genre String Quartet also offers a variety of other ensembles, including trios, duos, and soloists. Clients can even substitute any number of other instruments including guitar, flute, harp, and oboe or add a singer to the ensemble!
Contact us today for more information.
Bach - Air on the G string
Arioso
Ave Maria
Brandenburg Concerto No. 3 #1 & #2
Cello Suite No.1 Prelude
Gigue (from Suite #3 in D)
Jesu Joy of Man's Desiring
Sheep may Safely Graze
Wachet auf
The Girl with the Flaxen Hair
Delibes - The Flower Song from Lakme
Dvorak - Humoresque
Eduardo di Capua - O Sole Mio
Faure - Pavane
Franck - Panis Angelicus
Handel - Aria from Xerxes
Entrance of the Queen of Sheba
Hallelujah Chorus
La Rejouissance
Largo from Xerxes
Folk/Ethnic/Fiddle/Traditional
Amazing Grace
Ashokan Farewell
Cripple Creek
Devil's Dream
Florida Blues
Greensleeves
House of the Rising Sun
Las Golondrinas
Molly on the Shore
Orange Blossom Special
Simple Gifts
Tangos and Dances
Various Folk tunes from Celtic traditions
Waltzes
Classical
A Day in the Life of a Fool
All of You
Always True To You My Darling In My Fashion
Anything Goes
As Time Goes By
At Last
Besame Mucho
Black Orpheus
Blue Moon
Breakfast at Tiffany's
Bye Bye Blackbird
Charade
Days of Wine and Roses The
Embraceable You
Emily
Ev'ry Time We Say Goodbye
Fly Me to the Moon
Girl From Ipanema The
He Loves and She Loves
How High the Moon
Pop/Contemporary
Adele - Someone Like You
Al Green - I'm Still In Love With You
Andrea Bocelli - Time To Say Goodbye (Con te Partiro)
Andrew Lloyd Webber - All I Ask of You
Think of Me
Beach Boys - God Only Knows
Beatles - Across the Universe
All You Need Is Love
Blackbird
Can't Buy Me Love
Day Tripper
Golden Slumbers
Jazz/Standards