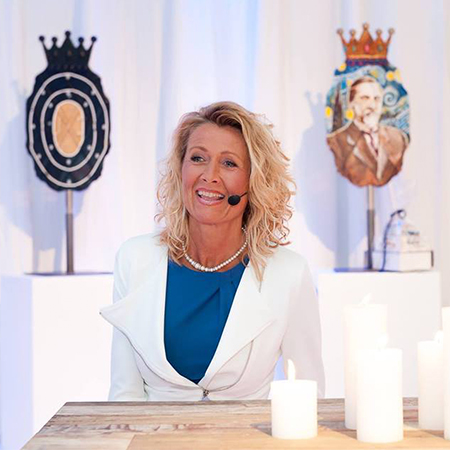 Multi-lingual Hostess Anne
An experienced female MC who is fluent in Dutch, English, French and Spanish
Has experience as a live event presenter, as a moderator and as a TV host
Can lead discussions, moderate debates of different types and interact with audiences in a number of ways
Has presented prestigious events held by renowned brands like Ford, Samsonite and Sony
Our fantastic Multi-lingual Hostess is based in Belgium and available for international events
Multi-lingual Hostess Anne VIDEOS
Multi-lingual Hostess Anne PHOTOS
Is you big opening ceremony, product launch or corporate event around the corner? Are you looking for an experienced female MC to lead it? If the answer to both questions is yes, then look no further. Our captivating hostess is the perfect female event presenter for your occasion.
With a degree in Foreign Languages, this Multi-lingual Hostess is more than prepared to present your event in either Dutch, English, French or Spanish. Actually her multilingualism is what of the reasons why she's a very popular choice among international brands. Renowned firms such as Ford, Samsonite and Sony have trusted her in the past to present some of their product launches. You can see some examples of her work by watching the videos above.
This experienced female MC is also a professionally prepared moderator. As such, she has plenty of experience working for and with people from different cultural backgrounds. Our experienced female MC has leading political discussions and moderating social debates between young professionals in the European Parliament.
Always wearing a big smile, this captivating event hostess is guaranteed to keep audiences engaged with her eloquent speech and her charismatic personality. With experience both at live events and in front of cameras, this talented female event presenter will make sure she has an in-depth knowledge of your brand, business or product before attending the event.
Her natural elegant style makes her the ideal choice for award ceremonies, gala dinners and luxurious opening ceremonies. Always dressed for each occasion, she can wear smart night dresses or more informal casual outfits depending on the time, place and type of event.
At Scarlett Entertainment we pride ourselves in providing a broad selection of hosts for events of all sorts around the world.
If you're interested in hiring the services of our phenomenal Multi-lingual Hostess Anne, get in touch with us today and make an enquiry. Our team of coordinators will be happy to assist you and help you through the booking process.
Agio Cigars : 100th anniversary – Duizel (NL)
Belron : Global Client Conference at Best Belron Technician Election in Rome and Lisbon
Côte d'Or : 125th anniversary
Delta Lloyd : Sales Meetings
FGH Bank Holland : Real Estate Awards in Utrecht
Fédération Française du Bâtiment : International Building Conference France
Grohe : 25th anniversary
Jules Destrooper : 130th anniversary
MAN : 250th anniversary
Nufarm : European Meeting
Rockwool : 25th anniversary
Sony : Product Launch VAIO
Teradata : European Conference Meeting in Barcelona Lisbon and Warscow
Volvo: S60 Launch in Montreux
Award Ceremonies:
Data News Awards for Excellence : best ICT companies of the year
Healty Life Awards
Pulp & Paper International Awards
World Retail Awards
Barco : Opening new Headquarters Campus One
Candriam : Investor Seminar – Prague
Daikin : 35th anniversary
Dunlop : Product Launches
Faber Habertsma Group : 75th anniversary in Groningen
GDF Suez : Employee Meeting
Hewlett Packard : Opening new Headquarters Brussels
Kappa Zedec : Opening new Production Hall : Deventer Holland
Manitou Group : 25th anniversary in Benelux
P&V Insurance : 100th anniversary
Rombouts Coffee : 110th anniversary
Stora Enso Group : Opening new Production Line with presence of HRH Prince Filip from Belgium
Van Hool : 50th anniversary
WTC Amsterdam : Re-Opening World Trade Center with the presence of HRH Prince Bernard of the Netherlands
Effie Awards in Belgium + Euro Effie Awards
ING Lease Car of the Year
S&P Cash Fund Awards
AXA Bank: Roadshow for Investment Brokers – Employee Meetings
Bayer : 100th anniversary
Celio : Management Meeting
Delhaize : Board Meeting Summits
D'Ieteren : 200th anniversary with the presence of HRH King Albert from Belgium
Ford Motor Company : Go Further Events : Event + Lifestreaming in Amsterdam and Barcelona
Gamma : 30th anniversary
ING : CEO Summit - Meeting with top clients
Konica Minolta : European Leadership Conference in Barcelona and Munich
Manpower : Business Unit Meeting in Brussels and Barcelona
Puratos : 50th anniversary of T500 their top product
Roularta : 60th anniversary
TNT : International Network Event : with the presence of the Ambassador of China to the Netherlands Xue Hanqin
Van Leeuwen : 60th anniversary
Weight Watchers : Member of the Year Election
Automotive World Awards
Geodis STC Awards in Paris
IPE Awards
Shopping Awards
AB INBEV (Stella Artois) : Draught Master of the Year
Belgacom : Sales & Marketing Meetings
Club Med : Opening new Flagship Store Brussels
Deloitte : Strategic Meeting Belgian Market
Euromax Rotterdam : Opening new Container Terminal
Fortis : Senior Management Forum
Gault & Milliau : Presentation of new Guide
Jan Stallaert Groep : Opening new Headquarters
Lindemans Brewery : Opening new factory
Miele : Opening new showroom Brussels
Reynaers Aluminium : Opening new Headquarters
Samsonite : International Product Launch in Brussels and Barcelona
Tech Data : Opening Meet-IT Fair
Van Moer Group : 25th anniversary of Transport Supplier
Belgian Building Awards
HR Excellence Awards : best Human Ressources suppliers
Marketeer of the Year
Suez Innovation Awards
" It's been a pleasure to work with you again on 130 years Jules Destrooper. Top job! "

Hans Perquy, Managing Partner at Marcel LiveCommunication