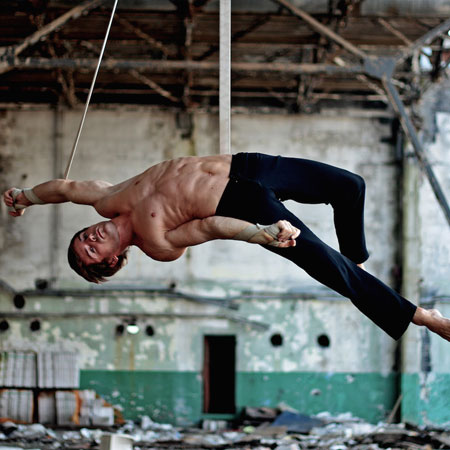 Multi-Skilled Acrobatic Artist
A dedicated & passionate artist, our talented performer provides diverse circus entertainment for all events
He performs breathtaking hand to hand balance, cube acrobatics, a contortion act & aerial straps
Our acrobalance performer won first place in the 'Polish Senior Championships' & 'Polish Cup'
Previous performances include 'The House of Dancing Water' in China & Oasr al Hosn Festival in Abu Dhabi
Based in Warsaw & available to perform at events worldwide
Multi-Skilled Acrobatic Artist PHOTOS
Book balance acts from Scarlett Entertainment for corporate events and festivals in Europe and worldwide. Performed by an award winning acrobatic performer, this balance act demonstrates, flexibility, elegance and inconceivable strength.
Born in Warsaw, Poland, our gifted acrobat graduated from Jozef Pilsudski University of Physical Education and has gone on to forge international renown for his passionate circus productions. A winner of numerous awards and national cups, this aerial performer placed first in the 'Polish Senior Championships' & 'Polish Cup', as well as winning bronze in the '20th World Senior Championships'.
A master of many circus theatre and acrobalance skills, our cirque aerialist can perform hand to hand balance, a contortion act, aerial tissue acts, aerial straps and cube acrobatics. 
Our aerial performer is available as a silk aerialist, creating a dramatic atmosphere as he performs suspended in the air, entwined in ropes. Alternatively, you can book this artist to provide circus entertainment in the form of a spectacular floor acrobatic show or a contortionist performance in which he creates impossible shapes with his body alone.
Having worked with numerous acrobatic groups and circus shows including 'The House of Dying Water' in Macau and 'Oasr awl Hosn Festival' in Abu Dhabi, our  experienced aerialist will ensure that your circus show, corporate event, festival or private function is truly spectacular. For more information about hiring circus contortionists and acrobats for your event, please don't hesitate to contact our office at Scarlett Entertainment today.
Catherine Lara-Au Dela Des Murs in Paris (France)
34e Festival Mondial du Cirque de Demain in Paris (France)
"The House of Dancing Water" in Macau(China)
TV Show Amici di Maria de Filippi in Rome(Italy)
"Qasr al Hosn Festival" in Abu Dhabi(UAE)