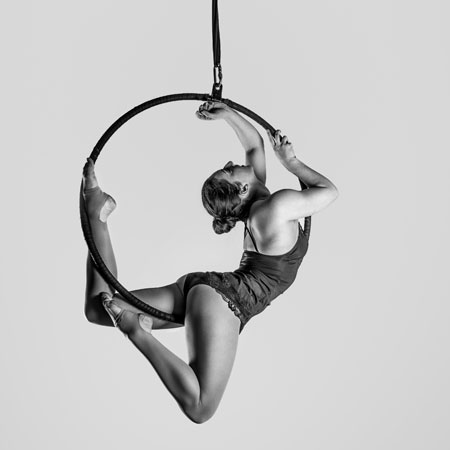 Multi-Skilled Aerialist
A highly trained acrobat and multi skilled aerialist who has trained extensively in gymnastics, dance, partner acrobatics, aerial, pole and yoga
With years of experience our female acrobat has perfected all areas of aerial performance
Can be booked as a silk aerialist, hoop aerialist, rope aerialist, acrobat, dancer, acrobatic duo, dance duo and more
Trained at Beijing International Arts School in Contortion and Hand Balancing
Based in Jeddah, Saudi Arabia and available for worldwide bookings
Multi-Skilled Aerialist PHOTOS
A highly trained acrobat and multi-skilled aerialist who has undergone extensive training in multiple disciplines to create a versatile act that can be customised to suit any occasion. Our female acrobat has perfected all areas of aerial performance and can be booked as a silk aerialist, hoop aerialist, rope and pole aerialist. 
With no limit to her talents, this extraordinary performer has trained and performed all over the globe, making her the ultimate female acrobat. Having trained at the Beijing International Arts School in Contortion and Hand Balancing as well as training in Edinburgh for acrobatics, the Gravity Circus Centre Professional Aerial Program, Contortion and Contortion Doubles Training in England, Aerial Training in Canada and many more!
A well-rounded performer who can adapt her routine to feature dance, partner work and aerial stunts this solo acrobat is the perfect performer for any event that desires a showstopper routine. With extensive training and knowledge of gymnastics, acrobatics and aerial, this multi-skilled aerialist provides routines that are both elegant and soft as well as exciting and dynamic.
Whether you are hosting a corporate event, brand launch, private party or anything in between this brilliant performer is guaranteed to astound audiences of all ages. In addition to her solo performances as an aerialist and acrobat, our female performer can also be booked to perform as a duo whether it be in acrobatics and hand balance or as a dance routine. 
Top Tip
Our female aerialist can also be booked as an incredible acrobat where she will amaze your guests with a variety of gymnastics, acrobatics, contemporary dance and contortion performances. To view more from this talented artist head to Multi-Skilled Acrobat Jeddah for more information.
To book our multi-skilled aerialist or for more information contact our Entertainment Specialists today!