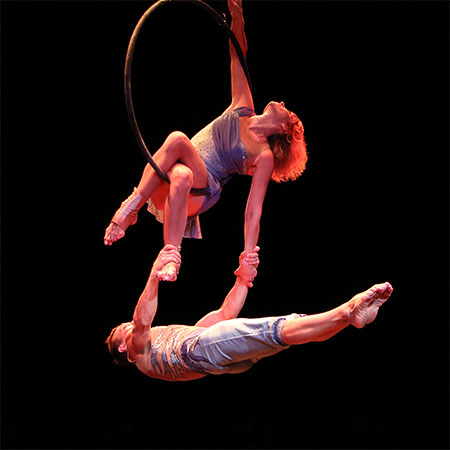 Multi Skilled Aerialists
Versatile aerial duo can dance preexistent routines or create bespoke choreographies for your event
Can perform as soloists and dance with different elements like aerial hoops, rings, silks, etc.
Have performed all over Europe and Asia including countries like Thailand, China and Cyprus
Ideal circus entertainment option for cruise ships, after dinner shows, ceremonies and weddings
These Multi Skilled Aerialists are based in Ukraine and available for worldwide bookings
Multi Skilled Aerialists VIDEOS
Multi Skilled Aerialists PHOTOS
These Multi Skilled Aerialists are guaranteed to leave a lasting impression at your upcoming big event. Performing impossible figures whilst hung from the ceiling, these talented aerial dancers will captivate spectators with a mind-blowing aerial dance that is sure to leave spectators wide-eyed.
Our versatile aerial duo can perform a variety of shows. Some of the elements they can include in their impressive aerial routines include aerial hoops, aerial rings, straps and silks. Their aerial duo performance be the perfect entertainment option for after dinner experiences, theatres, cruise ships, ceremonies, shopping mall entertainment and a wider range of occasions.
With both academic and professional experience, these skilled circus artists started their careers as elite gymnasts. They discovered their passion for circus after performing together at the International Circus Festival in Budapest. Since then, these circus performers have captivated crowds with their mind-blowing aerial dance and routines in Ukraine, where they're originally from, and a number of countries across Europe and Asia.
Especially loved by circus lovers, our multi skilled aerialists can execute preexistent routines of create fully customised shows especially for your event. These multifaceted aerial artists can perform to requested music and create bespoke choreographies for your occasion.
Our talented aerial dancers have delighted audiences at international events with their display of strength, flexibility and agility. An aerial duo performance that requires the highest level of concentration, their mind-blowing aerial dance has been widely applauded by spectators in Thailand, China, Cyprus, Germany or Kazakhstan, to name a few.
At Scarlett Entertainment we pride ourselves on providing aerialists and acrobats for events all around the world.
If you're interested in booking these Multi Skilled Aerialists, don't wait anymore and contact us today. Our wonderful team of Entertainment Experts will be delighted to provide further details on their aerial duo performance and assist you in the booking process.
Circus Simferopol (Ukraine)
Cruise company "Ibero Cruceros" M/V Grand Celebration
Hilton Phuket Arcadia Resort & Spa (Thailand)
Mercedes-Benz
Palazzo Theatre and Restaurant (Thailand)
Shopping Centre International Mega2 in Almaty (Kazakhstan)
Theatre Hua Xia Shenzhen (China)
Theatre Polly Beijing (China)
Catch Beach Club (Thailand)
Company "G5" (Ukraine)
Cruise company "TUI cruises" (Germany)
Iveco
National circus of Dnepropetrovsk (Ukraine)
Shopping Centre International Mega Park in Almaty (Kazakhstan)
Show Jasmine Court Casino (Cyprus)
Theatre Majestic Shanghai (China)
Circus "Russoli"