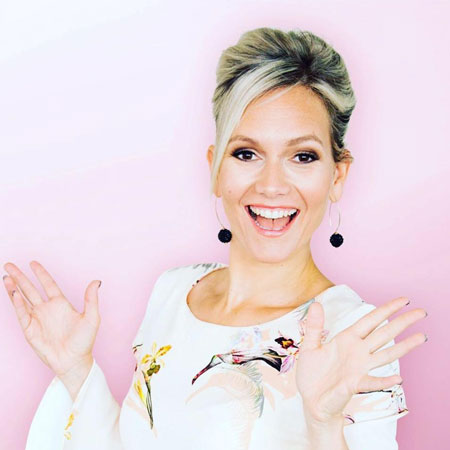 Multilingual Host and Moderator
Talks at many corporate events, awards ceremonies, presentations, conferences, seminars, fashion shows, and product launches each year
Event host covers many themes and industries including sports, wellness, politics, healthcare and technology
With a background in television, she is able to seamlessly engage audiences, interview guests, moderate debates, and talk knowledgeably on subjects
Fluent in Dutch, English and French our Event MC is suitable for international audiences
This event host is based in Belgium and is available for events worldwide
Multilingual Host and Moderator PHOTOS
Former TV Presenter on Belgium's largest regional channel TV Limburg, our event host and moderator captured the hearts of the viewers with her charming and engaging personality. Since she has been Crowned Miss Belgian, starred on RTV and is the is the current face of Steps Magazine.
Fluent in three languages, Dutch, English and French, she is able to seamlessly engage audiences, interview guests, moderate debates, and talk knowledgeably about a number of subjects.
Our event presenter has performed as a compere, event host and conference moderator at many corporate events, conferences, seminars, fashion shows and product launches. Companies and organizations such as Voka Limburg, Chamber of Commerce, Carglass, Democo, Houben, Unizo, VKW, JBC, Jam Group, DHL, Rabobank and many others have chosen her to host their events.
Let A Professional Moderate Your Next Event
Our multilingual event presenter is also a very experienced conference moderator, during her presenting work for studioTVL she interviewed an impressive number of guests, growing her knowledge of many different subjects. Whether it be sports, wellness, politics, healthcare, technology, our event host will be ready to discuss any theme, topic or industry. Her meticulous pre-event preparation and natural curiosity ensures that she asks the right questions at the right time and always knows how to pick up the conversation where necessary. 
We Can Help With Your Next Corporate Event
Our versatile multilingual host and moderator is Perfect for any event that requires an event MC, presenter or conference facilitator including awards ceremonies, televised events, charity galas, sporting events, product launches, corporate events, seminars and more. 
To find out more about how to book the perfect host or presenter for your event, contact our team of Entertainment Experts who will be more than happy to help with your enquiry. 
> Discover More and read our Ideas Blog: 5 Reasons To Hire A Multilingual Event Host.
VKW Limburg
Cocomo
Limburg Chamber of Commerce
Jam Group
Rabobank
Limburg Confederation
Conrad Consulting
Carglass Democo
DHL
Unizo
JCI Limburg
TV Limburg
Houben
BAN Flanders
Voka
To the Point Events
RTV
JBC
Limburg Confederation
" Presenting, moderating - she does it in her own stylish way, with lots of class and blissful fluency. Moreover, she is very flexible and as an event organiser it is a delight to work with her. "

Ingrid Eyckmans - Voka-Kamer van Koophandel
" Since 2012 we have been working together on a regular basis, she takes care of the presentation of our unique VIP brand. It is always smooth and pleasant to work with her and she always gives her own touch to the presentations. "

Kenny Provyn - Studio Essevee
" UNIZO Female Entrepreneurs have been calling upon her for several years to present the UNIZO LIVIA Award. She does so in a professional and spontaneous way, managing to put the nominees at ease by asking the right questions. "

Nadine Nijssen - UNIZO