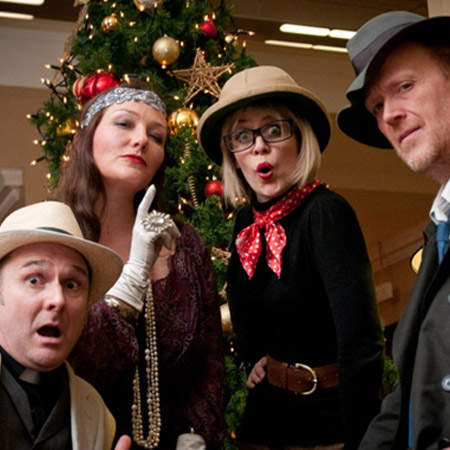 Murder Mystery Team Building
A mind-grasping team building game that will have participants finding a cold murderer.
Role playing, company team building designed to bring groups together in order to establish the truth.
A murder mystery team building entertainment experience that will shake and entertain those involved.
Book our challenging team building activity for corporate events, private parties, and more.
Hire our company team building activity for events in Italy.
The foul smell of death will engulf the very room your standing in and it's all because of you. The only way you're leaving this room innocent is with the help of your mischievous corporate team. Scarlett Entertainment's mind grasping murder mystery team building activity will put your hard working company team against a cold, blooded murderer that's hiding among you, will you be able to find the murderer before time runs out? 
Our team building games will throw you right into the heart of a classic murder case that will have each and everyone of your team members working together to find clues and solve the horrifying murder.
Our fantastic actors will play their parts to a key, recreating a perfect murder scene that will instill team work, trust, and a sense of hope. You'll need to decide whether you can trust your team members and put together the mystery. Everyone is a possible murderer when you step into the world created by our corporate team building experts. 
Our murder mystery will of course feature a dinner as you can't solve a murder on an empty stomach. Our team building activity includes a crime story, role playing, interactive theatre show, and a fun way to get to know your peers outside of the dreaded work place.
At Scarlett Entertainment we strive to bring the best in team building activities for corporate events, private parties, gala dinners, and much more. Our world class Murder Mystery Team Building activity is a great way to find out just who you can trust in the office. If you're interested in solving our trouble some murder case, you can find out more information on booking this activity by getting in contact with one of our experienced team members that will help set the stage for a fun and chilling day of mystery.