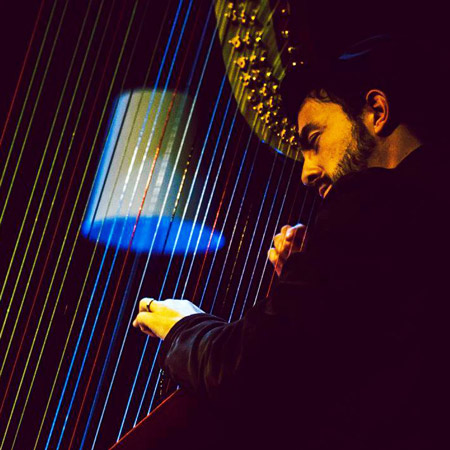 Naples Harpist
Very contemporary male harp player who perform everything from classical music to Jazz and pop
Regularly collaborates with multiple different musicians and artists
An innovative harp player who goes beyond the stereotypes of the instrument
Has performed at prestigious venues and locations all over the world
Based in Naples and available for events in Italy and Europe
Our Naples Harpist is an extremely talented and versatile male harp player. This exceptional Italian musician is more affiliated with jazz and blues that the classical stereotypes associated with the harp. 
The classically trained Naples Harpist graduated from the Conservatory of Naples and carried on his studies at the MAD jazz academy and with a jazz harpist called Marcella Carboni. Here he developed a unique technique and an innovative use of the harp that differentiates from the normal classical harp tendencies. His live music experience spans from historical, medieval and traditional Celtic music right the way throughout to Jazz and even light pop. 
The very contemporary male harp player can be booked as a solo Italian musician and will entertain your guests with the delightful and soothing sounds of the harp. Alternatively, he is part of multiple live line-ups that can be tailored depending on your requirements. 
Available line-ups are:
Classical ensembles with a choice of violin, flute and vocals
Pop, jazz folk with a choice of vocals, percussion, sax or cello
Irish music quartet
Harps and percussion quartet
Folk quartet 
The Naples Harpist has performed at prestigious venues and locations all over the world. These include the Scarlatti Hall of the Naples Conservatory, Neapolitan Monuments and the Rai Auditorium of Naples. The talented male harp player has won prestigious chamber music competitions and continues by teaching secondary school children. 
If you are interested in booking the Naples Harpist to play live music at your event, contact our team at Scarlett Entertainment.