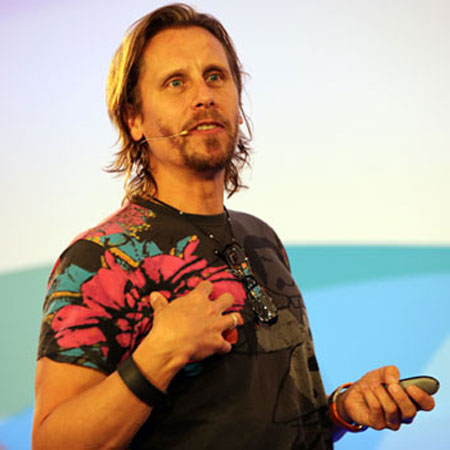 Neuroscientist Speaker Beau
Highly intelligent neuroscientist delivers insightful speeches on creativity, branding and human perception
Creativity speaker helps audiences to see that the next big innovation is not new technology but a new way of seeing
Helps businesses to approach branding from a logical perspective by addressing human perception and relationships
An interactive speaker who has spoken at TEDtalks, Google's Zeitgest Minds and who has contributed to BBC's Horizon and many more shows
Based in the UK and available for worldwide bookings
Neuroscientist Speaker Beau PHOTOS
Our knowledgeable neuroscientist has studied the span of social and personal boundaries between people, brands and institutions to create interactive and highly engaging speeches. A creativity speaker who delivers insightful speeches on branding and human perception is extremely beneficial for individuals, corporate companies and brands.
 
Beau focuses on how the perceptual brain resolves fundamental challenges of uncertainty, change and creativity which he applies to branding and businesses as well as helping individuals to understand the process of perceiving human beings. Beau draws on how essential uncertainty is due to the brain's need to resolve it and how crucial this is for not only thinking about branding and business, but specifically design, leadership and innovation. 
Our creativity speaker presents the idea to his audiences that the next big innovation is not a new technology but instead is a new way of seeing. He notes that perception is the foundation of human experience and with this ideology Beau has graced the stage of TEDtalks on two occasions, which have gained over five million views collectively. Not only this but our creativity speaker has spoken at Google's Zeitgest Minds and has also contributed to BBC's Horizon, National Geographic Channel and PBS in the US. 
In addition to presenting fascinating speeches our neuroscientist has created a digital AR platform that combines augmented reality, geo tagging and digital messaging to bring brands and people together, as well as being the Founder and CEO of a US Augmented Reality tech startup with several patents - ensuring that he is not only a specialist of creativity but has experienced the world of business from an insiders perspective. Not only that, but this remarkable intellect is also the Director of The Lab of Misfits, which turns the world into a lab as a way of enabling insights for companies and organisations. 
An interactive speaker that will enlighten audiences and guests as he gathers live data throughout his presentations to provide a method that enables audiences to actively embody the information presented has spoken at Wired, the G8 and many more renowned platforms. With a plethora of knowledge our intellectual speaker has shared his wisdom in two groundbreaking books - all about the science of seeing differently and how we as human beings don't live in the world directly, we perceive and conceive it through many different filters, refracting what we perceive through our own interests, dispositions and cultures. 
Our neuroscientist will tell you why there is nothing creative about creativity, why change is hard and what branding narratives the brain needs to create a relationship with a company in an insightful presentation that will offer scientific explanations and insights into the human brain and how perception works. 
To book our interactive neuroscientist speaker or for more information contact our Entertainment Specialists today. 
Bertelsmann SE & Co KGaA
Citywire Financial Publishers
GCHQ
IAA & Swisscom
Intellect
Kaspersky Lab
Oxford University Press
SMV Group
Synergy
The eLearning Guild
Universal Music Group
BBC
CBRE Ltd
Corenet Global
Gartner
Innobasque
Intermezzon
National Housing Federation
Pioneer TV
Specsavers
The London Business Forum
TouchCast Studios UK
iCrossing
Bayer Consumer Care AG
" A visionary scientist and thinker, Beau helps us to see the world anew ... a wonderful, ground-shaking book that has the power to change its readers lives for the better "

John Bargh, James Rowland Angell Professor of Psychology, Yale University and author of HIDDEN MIND: WHY WE DO WHAT WE DO
" Beau is a powerful storyteller who bridges peer-reviewed science and the creative arts in rare ways to offer actionable insights. "

David Rowan, Editor-in-chief WIRED
" Beau is one of the most creative scientist I know, and his passion for introducing neuroscience to the public ranks him among those rare communicators like Carl Sagan whose ideas can change peoples' thinking. At a time when many neuroscientists are pursuing the mindless goal of mapping all the connections in the human brain, Beau is right on target in his conviction that science advances by doubting the conventional wisdom and asking simple questions in a novel way. "

Professor Dale Purves, Geller Professor of Neurobiology, Duke Institute for Brain Sciences
" In a brilliant and skillful way Beau pulls the rug from under our naive view of reality . . . we discover how our conventional way of seeing, of perceiving reality, is incomplete and illusory . . . in doing so, he opens the curtain to a new beginning, a new beginning of seeing past our individual interpretation of reality, to recognize that others may surely have a different interpretation. In daring us to deviate Lotto encourages us to discover that compassion has a root that can be revealed through scientific insights. "

Peter Baumann, Founder of Tangerine Dream
" Beau, a brilliant neuroscientist, explains why our perceptual hardwiring makes it difficult for us to live with uncertainty, a condition necessary for us to become more empathic, creative, and successful . . . His insights help us understand just why leading change and innovation is so challenging and how great leaders ask great questions. He shows us how to reengineer our brains to be more effective in leading our organizations and in living our lives. "

Linda Hill, Wallace Brett Donham Professor of Business Administration at Harvard Business School
" If someone else told me that reality is something we create in our heads - I'd up my medication. This brilliantly written book shows us that this is actually the road to liberation. We have the ability to change our internal landscapes. Making our lives a masterpiece rather than a 'been there done that' cliche. "

Ruby Wax OBE, American comedian, actress, mental health campaigner, and script editor of ABSOLUTELY FABULOUS