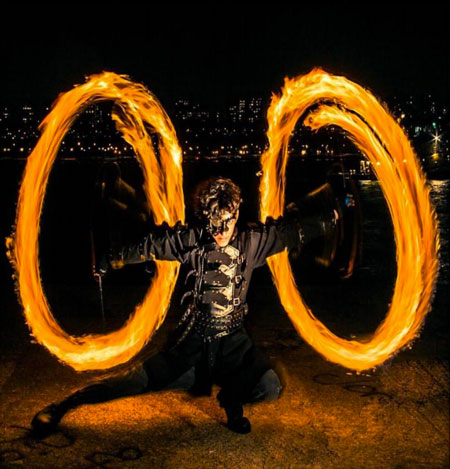 New York Fire Act
New York Fire Act mesmerises audiences through soft and gentle movements that showcase our fire dancer manipulating props whilst they are ablaze
Featuring a contact staff that our fire performer smoothly glides over his body, balancing the burning staff on his shoulders amazing audiences
In addition to fire shows our performer can offer LED shows
Perfect for corporate entertainment, private parties and anything in between that wants a fire act with a difference
Based in New York and available for worldwide bookings
A New York Fire performer who mesmerises audiences has created a fire act with a difference, as he uses scrupulous yet meditative techniques and movements to glide his contact staff around and over his body whilst it is ablaze. Our fire dancer not only performs with fire props but can also provide LED performer shows as well. 
Our New York fire dancer creates patterns and shapes by weaving his props through every angle and plane, manipulating the direction of the contact staff with his body as it rolls over is shoulders and spirals around his neck in a very elegant yet daring manner. 
This fire performer is different to other fire acts due to its grace and elegance that is extremely fluid and relaxing to watch. In addition to his fire performances our artist can also perform as an LED performer, an electrifying alternative that is visually stunning and fabulous to experience. 
Our LED performer and fire dancer displays a plethora of movements, meditative actions and intricate fast tricks – changing the dynamic of the entire performance, making it extremely exciting to watch. 
A versatile performer who can manipulate a variety of different props can perform with the following:
Contact Staff, an intimate prop that is in sync with the performer as it smoothly glides over the body. 
Poi, a prop that creates particular patterns/shapes at certain points, weaving through every angle/plane that is a complex yet fluid technique to witness.
Double Staff, using intricate techniques to manifest walls, shapes and illusions through connecting points using synchronised flow. 
A resident performer at Webster Hall for the event series 'Gotham' our LED performer and fire dancer is extremely professional and experienced and will guarantee a memorable performance for every event.
To book our New York Fire Act or for more information contact our knowledgeable Entertainment Specialists.