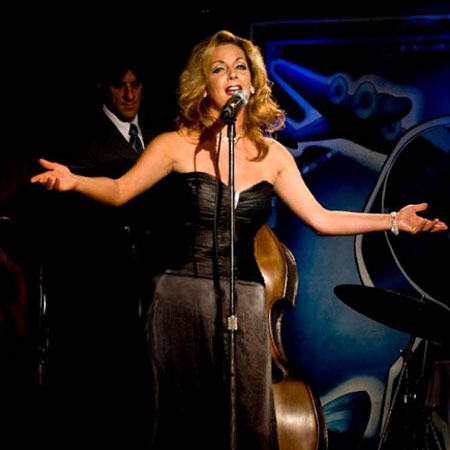 New York Jazz Vocalist Sarah
Has been lighting up New York's Jazz scene for the past 10 years
Singer with a vibrant voice, enormous repertoire and sunny personality
Performs a huge repertoire and variety of music standards
Has performed with jazz legends Les Paul, Benny Powell and Jack Wilkins
Based in New York and available to perform at events worldwide
New York Jazz Vocalist Sarah PHOTOS
Jazz vocalist and bandleader Sarah has been performing on New York's music scene for the past 10 years, lighting up New York's finest Jazz Clubs with her vibrant voice, enormous repertoire and sunny personality.
Discovering her voice at the tender age of 5 when she belted out a bluesy rendition of, "Oh John the Rabbit", Sarah became hooked on the feeling she received from sharing her incredible talent and has been singing ever since.
Wowing audiences all over the USA and internationally, Sarah performs a huge repertoire and variety of music standards from small group covers, duo, trio, quartet to big band.
Throughout her many years of singing, Sarah has gained extensive experience performing with a 1920s style big band, a Latin Big Band, Singing in Disney's Revue Show and even singing as a Marilyn Monroe Impersonator. She has also had the opportunity to work with some of the greatest jazz musicians of all time, Les Paul, Benny Powell, Jack Wilkins, Christian McBride, The Duke Ellington Orchestra, Dick Hyman, Tony Middleton, Tommy C. James, and many more.
Currently performing with the legendary Artie Shaw Orchestra, Sarah can also be seen performing in New York's finest Jazz Clubs.
All The Things You Are- C minor
All the Way- Bb
All Of You-
Almost Like Being In Love- Eb
Alright Okay You Win- D
Always
Am I Blue- C
Any Old Time Bad Bad Leroy Brown
Be Anything But Darling Be Mine-
Be My Little Baby
Bei Mir Bis Du Schon – D minor
Besame Mucho- G
Beyond The Sea
Bewitched Bothered & Bewildered- F
Big Spender- C minor Come Away with Me
Corcovado- C
Could I have This Dance-
Crazy- Bb
Cry Me A River- G minor
Daddy- C
Dancing Queen-
Danke Shoen
Days Of Wine & Roses- Bb
Day In Day Out
All That Jazz
Embraceable You- C
Everybody Wants to Be A Cat- D minor
Every Time We Say Goodbye-
Edelweiss- F
Every Day I Got The Blues
Everything Old Is New Again
Feel Like Makin' Love- Eb
Fine And Mellow- F
Fly Me To The Moon- Ab / F minor
For all We Know-
For Once In My Life
Georgia- Bb
Girl From Ipanema- F
God Bless The Child- G
Good Life The - Eb
Goody Goody- F
Good Morning Heartache- Db
Great Balls Of Fire- Eb
How Are Things In Glocca Morra- Bb
How Do I Live without You
How High The Moon- Eb
How long Has this Been going On-
I Can See Clearly Now-C
I Can't Give You Anything But Love-C
Easy To Love-F
" Sarah has a vibrant and exciting voice~ a beautiful tone, she's a throwback to the 1940s. Her penchant for comedic interplay livens up the dullest occasions. But when she sings the occasional ballad, she leaves the listener mesmerized "

Charles Carlini, New York music producer, In Touch Entertainment
" Sarah's song styling exudes personality, she has charisma to spare. And with her innocent and unintentional naiveté, she wins the hearts of all who experience her performance "

Michael Andrew, Bandleader, Broadway Producer, The Nutty Professor