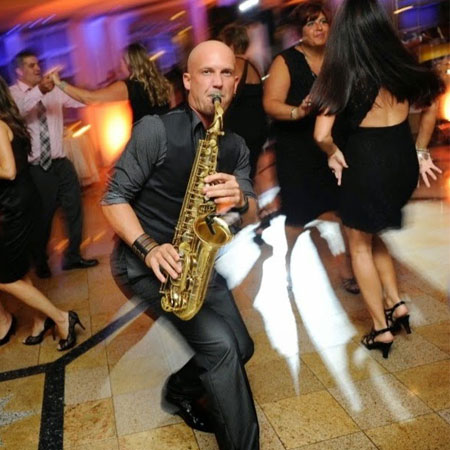 New York Saxophonist Eric
International award winning & grammy nominated saxophonist
Has toured internationally with The Rolling Stones, Prince & J. Lo
Blends original electro, house & dance music with live sax
Produces a captivating, one of a kind, audio-visual experience
Based in New York & available to perform at events worldwide
International award winning and grammy nominated saxophonist Eric has over 12 years of experience performing high-energy shows on live saxophone.
A world-class veteran saxophonist, Eric has recorded, performed, and toured internationally with major acts such as The Rolling Stones, Prince, J. Lo, Etta James, Hiram Bullock, Huey Lewis and the News, and many others.
Blending original Electronic/House/Trance digital soundscapes with live sax, percussion, and guitar like you've never heard before, Eric produces a captivating, one of a kind, audio-visual experience.
So, if your looking to add live sax to an event and would like to work with someone who adds priceless value to your clients experience than look no further than New York Saxophonist Eric.
Oprah Winfrey
American Express
InStyle Magazine
Jennifer Lopez
Hard Rock Hotels
And Many More
Clinique
E! Entertainment
Island Def Jam Records
Elton John Aids Foundation
Cosmopolitan Magazine
Dom Pérignon
Kim Kardashian
" ..Eric shows his versatility on acoustic and electronic wind instruments. Keep your eyes on him in the future. "

Hiram Bullock
" …His wailing licks are totally engaging and infectious, working the audience and the music into a frenzy. "

Contemporary Jazz Review
" Whether blowing a tenderly passionate soprano sax or edging into a more aggressive stance with his brilliant technique on alto sax, Eric is a show stopper nonpareil, and one of the most dynamic saxophone players on today's instrumental club/house scene. "

Cafe Jazz
" ...When he played that horn, on that night, every woman, young, old, and in between, fell obviously in love. His music has that kind of magic. He casts a spell. "

Etta James