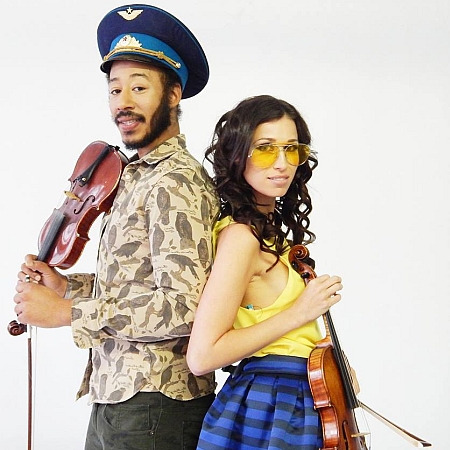 Nuttin But Strings
Multi talented, two time Emmy Award winning violinist Duo
Tourie has been referred to as "The Jimi Hendrix of the violin"
Played for Presidents Barack Obama, George Bush & the Dubai Royal Family
Previous clients include Microsoft, Nike, McDonalds, Apple, Toyota
Based in New York and available to play at events worldwide
Nuttin But Strings PHOTOS
Tourie 'Bastet' Escobar is a multi talented singer, songwriter and violinist with distinction. He has been referred to as "The Jimi Hendrix of the violin" by his adoring fans reflecting his skills for writing music, as well as performing it both vocally and instrumentally, truly making him a force to be reckoned with.
A violinist since the tender age of four, Sarah Charness captivates audiences with her vivacious performances and the vibrant sound of her trademark hot pink, six-string electric violin. Her unique musical style – the fusion of classical, pop, and electronic dance music - has thrilled fans around the world.
TOGETHER they are NUTTIN BUT STRINGS...
With over a decade of experience Tourie & Sarah bring an exciting energetic and refreshing experience to the entertainment world.  With two EMMY awards for scoring, this musically talented violinist duo are a sound to be heard and a sight to behold!
Royal Family of Dubai
Violins Against Violence
Nike
Toyota
General Motors
Auto Trader
Met Life Insurance
Gatorade
Ameritel
Thyssenkrupp
Sam's Club
Apple
Microtel Hotels
Novartis
Foot Locker
Barack Obama
McDonalds
UNICEF
Boeing
Reebok
Chevrolets
Super 8 Motels
Colgate
IBM
Cadillac
Churches Chicken
Microsoft
Walmart
Time Warner
GM
YMCA
George Bush