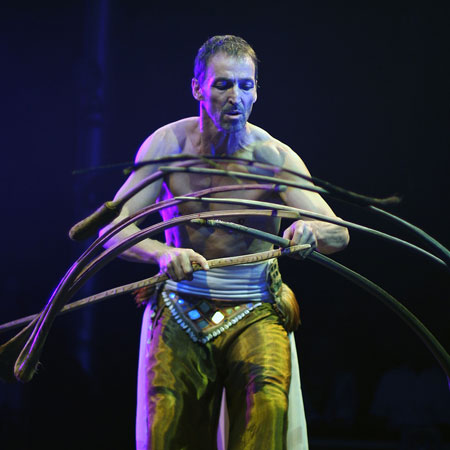 Palm Rib Balance
Unbelievable balancing act - one of the most stunning in the world
Balances 13 palm leaf ribs & one feather on one large palm leaf rib
Involves an insane amount of strength and concentration
Winner of Japan's Kamiwaza 2013 talent show
Visually mesmerizing show has been enchanting audiences everywhere
Mädir Eugster recently won Japan's Kamiwaza 2013 talent show with his incredible 'Palm Rib Balance' act. Eugster's performance takes an insane amount of strength and concentration as it includes balancing 13 palm leaf ribs and one feather on one large palm leaf rib.
More than a simple test of stability, this balance act presents a visually mesmerizing look at the form that Eugster creates and eventually steadies on his head. The artist's criss-crossing pattern leaves one to look on in wonderment while simultaneously exhibiting Eugster's incredible talent, step by step. 
This visually mesmerizing show is one of the most stunning acts the world has ever seen and has been enchanting audiences everywhere with no difference of culture, age or education.  Perfect WOW Factor entertainment for corporate events, cabaret shows, theatres and opera houses worldwide.
Photos are made by Kurt Sikora