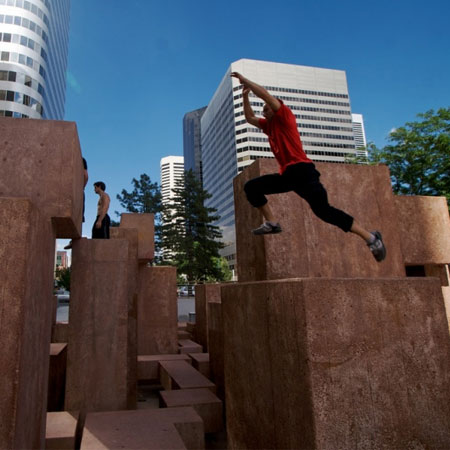 Parkour and Freerunning Team
Innovative new sports, Parkour and Freerunning team
Will leave your audience gasping for air with their jaws on the floor
Rocked stages around the globe leaving thousands awe struck
Clients include K-Swiss, Mercedes Benz, Nike, Madonna, ESPN, HBO, Nokia
Based in Washington DC & available to perform at events worldwide
Parkour and Freerunning Team PHOTOS
Are you looking for an unforgettable show that will leave your audience gasping for air with their jaws on the floor? As Certified Masters of Astonishment, this Professional Parkour and Freerunning Team can provide that for you, and more. Their high-octane, no-holds-barred performances will knock the socks off the most smug of viewers. On top of that, they provide you with an efficient and professional attitude to get the job done right, every time. 
Over the years they have rocked stages and sets around the globe leaving thousands of awe struck audience members and satisfied clients like K-Swiss, Mercedes Benz, Cisco, Madonna, Mountain Dew, ESPN, HBO, Nokia, BET, Nike, and Speed Stick just to name a few. You also may have seen them sharing their art in major media outlets like Time Magazine, CBS, NBC, ESPN Magazine, The New York Times and many many more!
From Film and Television shoots, to Tours; Live Performances at Corporate Events and Promotional Demonstrations as well as Instruction and Training, The Parkour and Freerunning Team is well versed in any kind of project you can dream up.
IBM
Madonna
ESPN
Nokia
Walt Disney
Nike
FremantleMedia
Mazda
Cartier
And many more...
Mercedes-Benz
HBO
National Geographic
K-Swiss
Philips
Survivor
The New Yorker
Foot Locker
Timberland
Jack Morton
Cisco
" The guys where great and such a huge hit. They brought that show to life and will have people talking about it for a long time. "

Ivette Ramos K-SWISS
" They really did an excellent job, much more than what we asked them for. They were really professionals, training all the time they could, excellent attitude "

Augstina of Nokia International
" The skill, focus, and enthusiasm of the entire Parkour team was remarkable. You operated like seasoned film veterans and my entire crew was equally impressed. "

Ken Arlidge, Aero Films - Director of K-Swiss Commercials
" A great group of guys to work with. They came prepared and maintained a high level of energy and professionalism throughout the two long days of shooting. Each member brought different perspectives and talents to the table which allowed us to focus on all aspects of Parkour. Their insight and experience allowed us to easily reflect the evolution of Parkour and the future potential that we were looking to express in our video. "

Taylor Tscharner, Motive