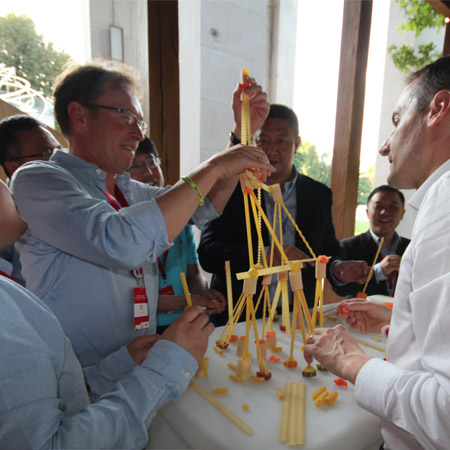 Pasta Team Building Exercise
Team building activities that incorporate pasta and world class building exercises.
Fun team building entertainment that will challenge your inner architect.
Corporate team building that will have everyone satisfied and hungry.
Hire our corporate entertainment experts for your next corporate event, private party, and more.
Book our Pasta team building games for events in Italy.
Yes you read that right, we provide world class Pasta Team Building Exercises that will leave a lasting impression on your peers as you work together to bring to life breath taking contraptions with stiff noodles. Scarlett Entertainment provides the world champions of pasta building in what's actually a pretty simple event so don't let any of this intimidate you and just enjoy the crafts that will be built during our team building games. You're in for a real treat with this pasta experience.
The only tool required is a simple table for each team that will contain between 6-8 people and our noodle experts will take care of the rest. Participants will build to their hearts content a challenging art piece made entirely out of raw noodles and play dough, in a corporate team building activity that's sure to have your peers laughing until their guts burst. Providing a stress free zone, our on hand team will make sure you're having fun all while building lasting memories and friendships throughout your teams.
We'll give you a hint! To win the contest you might want to bring your A-game when it comes to balancing size and weight. You got this, we believe in you. Just don't tell anyone we told  you our pasta building secrets. Currently our best pasta building happens to be a dazzling tower that is 96 cm high which at the time was able to hold an egg for a strong 5 seconds. Do you think your teams can beat that? We challenge you by letting us be your next pick when you're looking for high spirited company team building. 
Groups are divided into teams of 4-10 people, and depending on the available time and number of participants we could have one heck of a day. Our beautiful Scarlett Entertainment team is all about team building and we're always working hard to make sure your team building entertainment is up to par, so if you're interested in booking our world class Pasta Team Building Exercises I suggest getting in contact with our phenomenal staff as they'll take care of all your event booking needs.