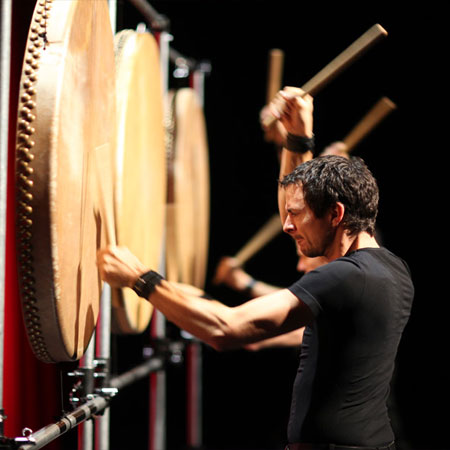 Percussion Show Germany
Leave a lasting impression on the senses with energetic drum show
Tailor made drums and percussion shows for your event
Versatile repertoire & an eclectic range of acts
Previous clients include Porsche, Shell, BMW & more
Based in Germany & available for events worldwide
Percussion Show Germany PHOTOS
This explosive percussion and drums trio have been performing tailor-made shows for high-end clients since 2001.They have set audiences' hearts racing with dexterous, high-octane drum performances for the likes of Porsche, Shell, BMW & SIEMENS.
They possess a versatile repertoire that brings together all elements of the drum world, and an eclectic range of acts including power drums and percussion using specially made steel sculptures. They can also combine their percussion show with dancers, acrobatics, visual art and more. Each performance is custom created to meet the priorities of each event, guaranteeing a unique and unforgettable performance.
Power Drums
Concentrated drum performance featuring three impressive drums measuring 1 metre in diameter. Powerful rhythms, expertly choreographed will leave a lasting impression on the sense.
Walking Grooves
Portable percussion show allowing interaction with guests and audiences, featuring Afro-Cuban grooves and Brazilian rhythms in unusual arrangements.
Percussion Lounge
A range of percussion forms, ideal for welcoming guests on their entry. Team Building
A dynamic team experience where everyone can join in and have fun using drum, circle and body percussion.
Special Sounds
Special sounds for special occasions! Featuring stainless steel sound sculptures, meditative gong sounds, and instruments made of wood and plant materials. Ideal for exhibitions, product launches and more.
ERGO Frankfurt
Daimler AG Stuttgart
Deutsche Bahn Berlin
Deutsche Vermögensberatung Köln
Hewlett Packard Messe und Kongress Berlin
Bundesgartenschau Koblenz
Eröffnungsveranstaltung Bremen
Künstlerbrunch im Kanzleramt Berlin
Brocade Berlin
Opening "Forum Duisburg" Shopping Centre Duisburg
Eröffnung der "ARD- Hörspieltage" Karlsruhe
Hubl Edelstahl Stuttgart
Baum Galvanotechnik Zwönitz
Rauschenberger Catering Fellbach
Porsche Stuttgart
BMW Berlin München
SIEMENS Stuttgart
Mövenpick Berlin
Eröffnung des Bundeskanzleramts Berlin
Eröffnung diverser Fußballländerspiele
Wissenschaftssommer des Bundesforschungsministeriums
Juice Plus Berlin
Tanz auf dem Vulkan Pressekonferenz Berlin Berlin Chemie Stuttgart Magdeburg Dortmund
DB-Regio Düsseldorf
Konferenz des Bundeswissenschaftsministeriums Saarbrücken
Stadttheater Hagen 13 Ballettvorstellungen
Trumpf Stanzmaschinen Ditzingen
ZKM Karlsruhe
Stadtgeburtstag Karlsruhe
Shell Berlin