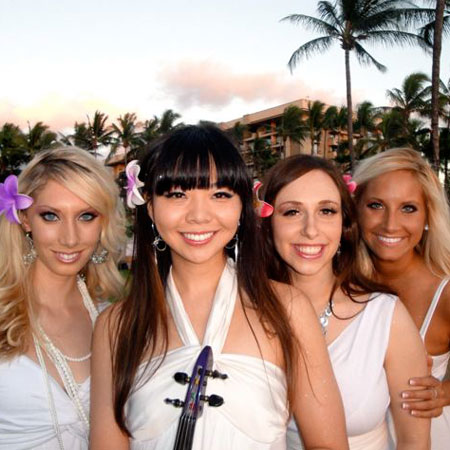 Phat Electric Strings
4-8 classically trained beautiful girls playing electronic instruments.
Calendar full of award shows, gala dinners, celebrity parties & corporates
Opened for stars inc Sheryl Crow, Duran Duran, Billy Idol and more
Repertoire can include Classical, Rock, Pop, Contemporary & Dance
Based in Las Vegas and available to perform worldwide
Phat Electric Strings VIDEOS
Phat Electric Strings PHOTOS
Unique, ultra-cool, rockin', elegant, beautiful, smooth, powerful, tres chic, slightly sexy, versatile, musical, visual, and appealing to everyone.  Technically speaking, PHAT Strings is an international cast of classically trained beautiful girls playing futuristic electronic instruments with an  industrial strength club groove… Most people just say WOW!
Created by bandleader and producer Roby, and A-list electric violinist Ivie, PHAT was born in the nightclubs of Las  Vegas and is currently playing concerts, prestigious events, and corporate shows all over North America. Although best known for their classic rock  mashup performance style, PHAT's incredible versatility has filled their show calendar with gala dinners, awards shows, rock concerts, ritzy  receptions, premieres, convention general session openers, celebrity parties, grand openings, exotic locations, and over-the-top extravaganzas. PHAT has it's own unique musical style. They take a great song, create an original arrangement for string quartet, produce an  accompanying Phat club groove recorded in their own studio, add guitar pedals, throw in some incredible chops and performance flair, and BAM! You  have the distinctly original musical product that is PHAT. All delivered by fresh, young, beautifully talented women!
PHAT STRINGS DOUBLE QUARTET – 8 girls
PHAT STRINGS SYMPHONY – Band plus Quartet
TRADITIONAL CLASSICAL QUARTET and STROLLING
MORE THAN A FEELING – Boston
SUNSHINE OF YOUR LOVE – Cream
25 OR 6 TO FOUR -  Chicago
BRANDENBURG CONCERTO – Bach
BABA O'RILEY – The Who
DREAM ON – Aerosmith
MISSISSIPPI QUEEN – Mountain
BACK IN  THE USSR – The Beatles
MOON RIVER – Mancini
ROCK AND ROLL HOOCHIE KOO – Rick Derringer
CONQUISTADOR – Procol Harem
PIANO MAN – Billy Joel
SPIRIT OF THE RADIO – Rush
EINE KLEINE NACHTMUZIK – Beethoven
BITTERSWEET SYMPHONY – The Verve
LIVE AND LET DIE – Paul  McCartney
I'M JUST A SINGER – The Moody Blues
KISS FROM A ROSE – Seal
and many more...
FRANKENSTEIN – Edgar Winter
SHERYL CROW
STYX
DREW CAREY
JERRY SEINFELD
STEELY DAN
TERRY FATOR
DREW CAREY
and many more…
Clients:
IBM
NBC UNIVERSAL
MAZDA
CLAYTON FINANCIAL
WELLS FARGO
HEWLETT PACKARD
REMAX
NET JETS
LIFETIME CHANNEL
EQUINOX FINANCIAL
REMY/COINTREAU/MACALLAN
RUPERT MURDOCH
BMW
AMC
STATE FARM
INTERNATIONAL TRUCKS
KRAFT FOODS
CATO GROUP
COUNTRYWIDE
TV GUIDE
LIONS GATE
CARLSON
OPCMIA
HEARTS ON FIRE DIAMONDS
GSK
GENZYME
GENENTECH
LPL
XANADU
WELLS FARGO
KUMHO TIRES
EVERY MAJOR  LAS VEGAS HOTEL
CINEVEGAS FILM FESTIVAL
DREW CAREY  PRICE IS RIGHT WRAP PARTY
GOVERNORS INVITATIONAL BALL
GAYLORD NATIONAL Grand Opening Washington DC
Opened for:
DURAN DURAN
EARTH WIND AND FIRE
JOURNEY
KENNY  LOGGINS
MICHAEL McDONALD
KOOL AND THE GANG
BILLY IDOL
AMC THEATRES
FOX
GNC
COMPASS GROUP The Americas
GENERAL  MOTORS ISUZU
DSM NUTRITIONAL
ALLSTATE
VERIZON
PRIVATE BANK
MITSUBISHI
FORD
DREW CAREY
WASHINGTON MUTUAL
MERCEDES
SUN MICROSYSTEMS
HYUNDAI
NETAPP
KYOCERA
MEETING PLANNERS INTERNATIONAL
ACURA
BRITISH  TELECOM
CCC INFORMATION SYSTEMS
MILLIKEN
SBC
SYMANTEC
JOHNSON CONTROLS
RESPIRONICS
INVENSYS
MATRIX
VM WORLD
IMGRAM MICRO
BOY SCOUTS OF AMERICA
ANDRE AGASSI GRAND SLAM FOR CHILDREN
ROCK FOR THE CURE with LARRY KING
WEDDING ATOP ASPEN MOUNTAIN
BEAU RIVAGE GRAND  REOPENING BILOXI
and many more…
JOHN MAYER