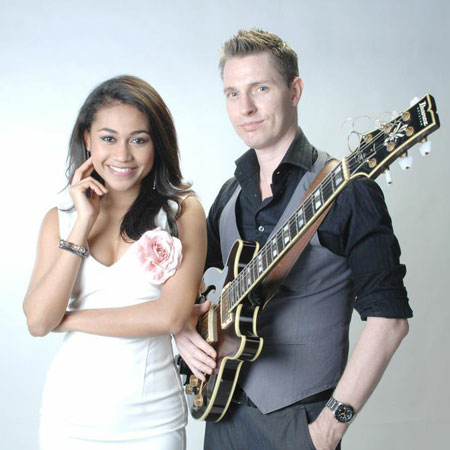 Pop Duo Las Vegas
Incredible acoustic duo will add class and ambiance to any event
Perform a wide range of genres: Top 40, R&B, Jazz, Bossa Nova, Latin…
Stunning vocals & moving acoustic performance will leave you breathless
Have performed at some of the world's most prestigious 5 star hotels
Based in Las Vegas, USA and available to perform at events across the world
This acoustic guitar and vocal duo are two highly experienced and versatile performers, having spent decades entertaining audiences of all sizes, across the USA and Thailand.
They will add class and ambiance to any setting, whether it's a cosy club, 5 star hotel or resort, corporate event, concert or wedding. They possess a wide repertoire featuring a range of genres that can be adapted to suit the needs of the client: Blues, Motown, Classic Rock, Top 40, R&B, Jazz, Bossa Nova, Latin and more, they can perform something that will suit audiences of all musical tastes and ages.
Having performed at some of the world's most prestigious luxury 5 star hotels such as the Royal Orchid Sheraton, this duo are no strangers to the spotlight and know how to give world-class performances. With stunning vocals and incredible acoustic guitar playing, this duo will add something extra special to your event!
To find out more get in touch with our team of Entertainment Experts.
Can you feel the love tonight
Alone again natually
Close to you
Greatest love of all
Hello
Love fool
Imagine
Sorry seems to be the hardest
Your got a friend
Wonderful tonight
I'm not in love
Crazy
Turn me on
I cant tell you why
Just the 2 of us
Lets stay together
This masquerade
Your no good
Still a friend of mine
Ribbon in the sky
Rock with you
Close your eyes
Lucky
Across the universe
The closer I get to you
Love Tko
Waiting in Vain
Masterblaster
Message in a bottle
Roxanne
Your body is a wonderland
My cherie amour
Inner city blues
Amor
Poetry man
Breezin
Tears in Heaven
Shape of my heart
Perfidia
You dont know me
Chitlins con carne
Details in the fabric
Fragile
Cant help falling in love
Cant smile without you
Just the way you are
How deep is your love
Hero
Loving you
One hello
September
Valentine
Always on my mind
Put your records on
Dont it make my brown eyes blue
Feel like making love
I feel good
If I aint got you
Overjoyed
Sweet Love
Super duper love
Am I the same girl
Halo
Sweetest taboo
Homeward Bound
Cruisin
Baby can I hold you
Aint no Sunshine
Isnt she lovely
Use me
Tell me something good
One love
No woman no cry
Good People
Sleepwalk
Pick up the pieces
Color of the wind
Cant take my eyes off you
Desperado
Have I told you lately
I say a little prayer for you
Love will keep us alive
Saving all my love for you
Smooth operator
Wall in your heart
You make me feel brand new
Like a star
The way we were
Feeling good
Its too late
Leaving on a jet plane
Stand by me
Whats going on
Lady Marmalade
Billie Jean
A woman's worth
Please dont stop the music
For the love of you
Always on your side
Aint nothing like the real
Fast Car
In my life
Living for the city
You are the sunshine of my
Could you be loved
Graceland
Babylon
Riviera Paradise
Its probably me
After midnight
Bad moon rising
Blueberry hill
Brown eyed girl
Cold shot
Domino
Glory days
Hey tonight
House is Rocking
Im so happy cant stop crying
Keep your hands to yourself
Leave your hat on
Margarittaville
Midnight special
Old time rock and roll
Pretty woman
Run through the jungle
Soul man
Stuck in the middle
Susie Q
TCOB
Tick Tock
Voodoo chile
When love comes to town
Wish you were here
People get ready
Saturday in the park
Hey nineteen
Senor Blues
Home
Chain of fools
Stop dragging my heart around
Mercy
1973
Every breath you take
Bad Girls
Were in this love together
All shook up
Black magic woman
Born on the bayou
Brown Sugar
Crossfire
Down on the corner
Green river
Hold on I'm coming
Hurts so good
Johnny b. good
La grange
Little red rooster
Marie
Midnight train
Sundown
Pride and Joy
Shooting star
Southern Cross
Sunshine of your love
Sweet emotion
The Sky is Crying
Tightrope
Walk of life
White room
Fifty ways to leave you lover
Spooky
Polk salad annie
Layla
Tequila sunrise
Someone like you
Son of a preacher man
If it makes you happy
Good times
In my place
Bang Bang
Signed sealed delivered
Heard it through the grapevine
Another saturday night
Blue suede shoes
Breakdown
Cocaine
Crossroads
Funky Broadway
Have you ever seen the rain
Honky tonk woman
I shot the sherriff
The Joker
Lay down sally
Long train running
Memphis
Mustang sally
Pieces
Rambing man
Soon as I get paid
Still got the blues
Superstition
Sweet home alabama
Thrill is gone
Traveling band
Walking blues
Whole lotta shakin
Moon over bourbon street
Cinnamon girl
Roadhouse blues
Oye como va
Lodi
Rolling in the deep
Just the way you are
Sweet child o mine
Bubbly
Whats love gotta do with it
Bridge over troubled water
Need you now
Rehab
Pop/R&B/Rock
As time goes by
Cry me a river
Georgia on my mind
Sentimental reasons
Misty
Nearness of you
Over the Rainbow
The very thought of you
What a wonderful world
A night is tunisia
Autumn Leaves
Blue Moon
Deed I do
Fly me to the moon
High high the moon
I should care
It dont mean a thing
Ive got you under my skin
Lady is a tramp
Lullaby of birdland
My Romance
Night and Day
Old devil moon
Raindrops keep falling
Sentimental journey
Sunrise
Taking a chance on love
The way you look tonight
Twisted
Quizas
Dindi
One note Samba
Mas que nada
Pial kanala
So Danco Samba
How insensative
Bewitched
Dont know why
God bless the child
I'll be seeing you
My funny valentine
Save your love for me
Stardust
Blame it on my youth
When I fall in love
All of me
All or nothing at all
Cheek to Cheek
Dont get around much
Falling in love with love
I cant give you anything
I wish you love
It had to be you
I remember you
L.O.V.E.
Love for sale
Moondance
On a slow boat to China
Paper moon
Route 66
Summertime
Take 5
The days of wine and roses
There will never be another
Besame Mucho
Corcovado
Brazil
So Nice
O pato
Wave
Triste
Strangers in the night
Come away with me
Dream a little dream
I cant get started
La Vie en Rose
My one and only love
Someone to watch over me
Tea for two
Unforgettable
Smoke gets in your eyes
All the things you are
Beyond the Sea
Caravan
Fever
Honeysuckle Rose
I only have eyes for you
I'm in the mood for love
Ive got rhythm
Just friends
Love me or leave me
East of the sun
New York New York
Orange colored sky
No more blues
Satin doll
S'wonderful
Take a the A train
The more I see you
They cant take that away
Como Fue
Desafinado
Sway
Agua de beber
The girl from ipanema
What a difference a day makes
Shadow of you smile
Quando
Meditation
Time after time
The look of love
Fire and Rain
Samba pa ti
Jazz/Ballads/Acoustic/Latin
Galaxy Macau
Bed Supperclub
Iron Fairies
Apoteka Bangkok
The Londoner
The Barbican
Ascott Bangkok
Royal Orchid Sheraton Bangkok
Brown Sugar
Fatgutz
V9 at Sofitel Hotel Silom
Royal Bangkok Sports Club
The Robin Hood Pub
Intercontinental Hotel Phenom Phen
Grand Hyatt Hua Hin
Kempinski Bahrain