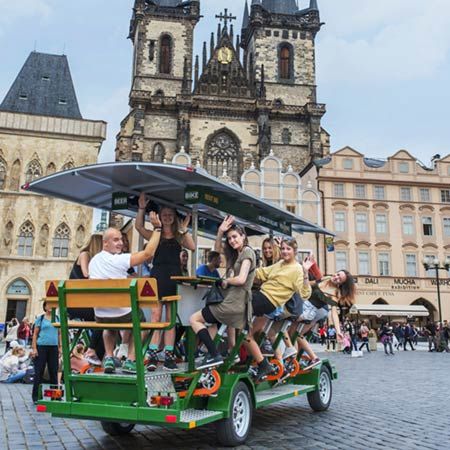 Prague Beer Tour
Up-to 15 people can enjoy a pedibus around historic Prague while drinking local beer
Tour-guide driver provided to educate you on Prague's history
Each pedibus comes with a 30-litre keg of Czech Pilsner
Regular stops at Prague landmarks for photos and site visits
Relaxed, sociable way to discover this beautiful city
Book our cycling tour of Prague to experience this historic city whilst enjoying a beer tasting. This day trip entertainment is a unique way to go sight-seeing and go on an informative Prague tour. Up-to 15 people can go on each tour, allowing you to bring a large group or socialise with new friends in an informal way. 
The Prague tour is on a pedibus, which is a cycle ridden by 16 people (including the driver) in a rectangle. Ten people pedal, but because the effort is shared and the speed needs to be kept low, the exercise is very light. 
The driver of the pedibus is also your tour guide and shares his or her extensive knowledge of Prague with you throughout. Regular stops are made so that you can see a sight close-up, take a few photographs and stretch your legs.
Each tour is also provided with a 30-litre keg of premium Czech Pilsner - the lager that the Czech Republic is famous for all over the world. 30 litres equals 52 British pints, or 60 European pints, which is around four pints per person.
The tour lasts a minimum of two hours and uses the quieter and more picturesque streets of Prague, however it also visits the bustling city centre and takes you to important pubs, bars and restaurants. There are a number of tour options available, allowing groups to customise their route to see the sights that are most important to them.
You may also customise your tour to any theme that you wish, making this event perfect for stag dos, hen dos, birthday parties, office parties and much more. It is also a very relaxing and informal way of seeing the romantic Prague with a loved one. 
The tour stops every fifteen minutes to allow you to take photos and visit monuments, as well as tap the barrel so that you can drink more whilst cycling! Your tour guide (who remains sober throughout) will be multi-lingual and is an expert on Prague's history, culture and important sights. 
If you are party animals and concerned that the amount of alcohol provided won't be enough, more can be purchased and a waitress added to keep you topped up while you cycle and take photos. After dark, the bus is lit up with LED lights, making it a romantic option for sight-seeing. 
The bus comes complete with a sound system, so you can have suitable music for your cultural sight-seeing tour of Prague. You are welcome to provide your own music to truly personalise the experience. 
Booking Tips:
The tour stops every 15 minutes for toilet breaks, sight-seeing and bar visits
While it is easy exercise, this is not the time to wear your best clothing
You can tailor the tour to your sight-seeing and party priorities
Tours start at the riverside promenade of Dvořákovo nábřeží
Health and safety is very important and the driver may eject customers who are too drunk
Follow your route on a map of Prague or your smart phone to get a better knowledge of the city
Customers may not provide their own alcohol
Alcohol cannot be served to persons under the age of 18, and identification may be required
IDEA ARTICLES RELATED TO Prague Beer Tour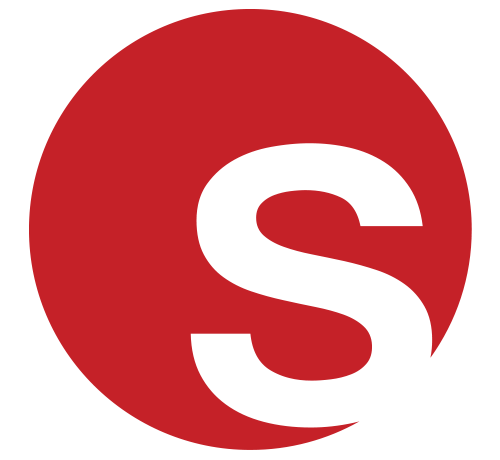 How To Host An Office Party After Lockdown: Tips For Success
Looking For Office Party Entertainment? Here's Everything You Need To Know
Freya Britton
|
20/07/2021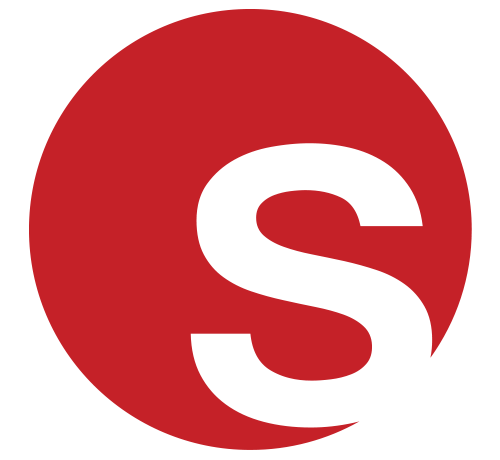 Return To Work Post-Lockdown Team Building Guide
Why You Need Team Building Activities When Returning To The Office
Freya Britton
|
06/07/2021