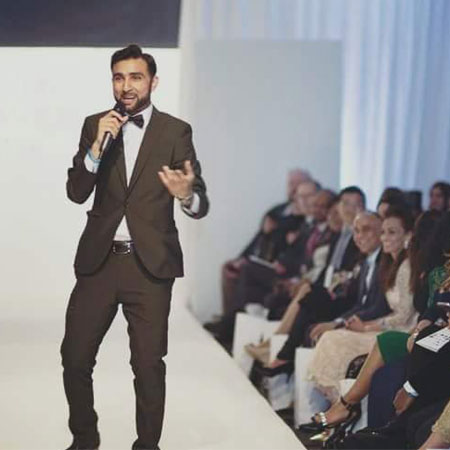 Presenter Salman
A presenter and stand up comedian, Salman is a natural entertainer
Able to host in English, Punjabi, Hindi and Urdu, this comedy speaker is extremely popular with international audiences
Available to hire as a comedy event host or presenter, Salman can show guests to seats, make speeches, present awards and more
The perfect addition to conferences, corporate functions, weddings and galas, Salman is always well dressed and eloquently spoken
Book Presenter Salman for events in London and internationally
One of the leading comedy event hosts in London, Presenter Salman possesses the ability to unite audiences of all cultures at events in laughing together and enjoying the occasion. Both a speaker and a stand up comedian, Salman is an experienced comedy event host. A confident and friendly personality, his presence at events never fails to uplift the atmosphere and get guests feeling relaxed.
Not simply a "funny guy", Salman also takes his role as a presenter or MC very seriously and understands the line between comedy and professionalism. Regularly booked for high end corporate and private events, you can be sure that your event will be a success with comedy host Salman at the helm. 
Offering a personalised service for clients based on the requirements of their event, stand up comedian and event speaker Salman is able to provide full stand up comedy shows, hilarious event hosting or a professional compere service. Keeping the crowd entertained with his quick wit, speaker Salman quickly breaks the ice at any occasion, allowing guests to relax and enjoy the day. 
Fluent in English, Punjabi, Hindi and Urdu, comedy event host Salman possesses the ability to connect with a wide range of international audiences. Able to meet and greet guests as they arrive at your event, introduce speakers, present awards, MC and entertain with his superb stand up comedy, versatile presenter Salman can adapt to the requirements of your specific event.
An experienced broadcaster as well as an MC, Salman has worked with a variety of networks including Sahara one, Brit Asia TV, Venus TV, and Apex TV. Always professional and utterly entertaining, Salman will ensure that your conference, corporate function, gala or wedding reception is a total success.
For more information about booking Presenter Salman for your special occasion, get in touch with our team at Scarlett Entertainment today and we will be more than happy to answer any questions you have.
Sahara one
and more...
Apex TV