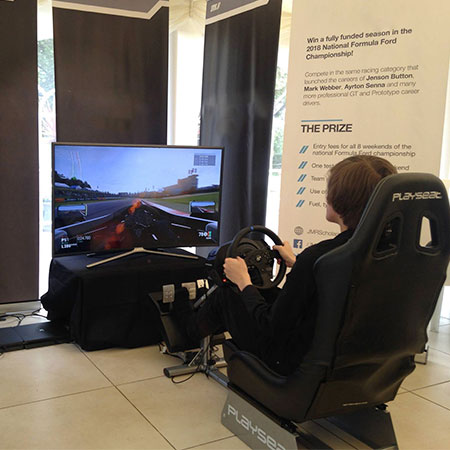 Racing Simulators
Exciting F1 driving experience ideal to test the skills of experienced drivers
Each participant will have 30 minutes to complete the fastest laptime possible around the famously tight and technical Brands Hatch Indy Circuit
Jenson Button, Mark Webber, Ayrton Senna and other GT and Prototype career drivers have tested these advanced F1 simulators
Perfect driving experience day for large groups who would like to enter a real competition
These Racing Simulators are available for bookings all across the UK
Organise a driving experience day for your employees, colleagues or friends by hiring these sensational Racing Simulators. This advanced technology will allow top racers and F1 enthusiasts to test their driving skills!
The team of experts in charge of this racing simulator game helps top kart racers to compete and put in some incredible laptimes. This advanced F1 simulator's software is true-to-life physics and is very accurate. The hardware is equally advanced and it feels like the real thing, ensuring this F1 driving experience is as realistic as possible.
In order to make this racing simulator game more exciting, this driving experience day ends with a real prize: everyone who drives on these Racing Simulators will be automatically competing for a £35,000 season racing a real formula car next year! The fastest laptime on these advanced F1 simulators takes the prize. This will sure add some excitement to your group of friends' evening!
Each participant will have 30 minutes to complete the fasted laptime possible. They will drive a Formula Rookie car around the Brands Hatch Indy Circuit, which is a famously tight and technical one. Many professional drivers such as Jenson Button, Mark Webber, Ayrton Senna and other GT and Prototype career drivers have tested these advanced F1 simulators and loved it!
The equipment needed for this F1 driving experience is very portable. Easy to transport and set up, our advanced F1 simulators can be transported within the UK and overseas.
Scarlett Entertainment offers a variety of interactive group experiences in the UK and all over the world, and this F1 driving experience is guaranteed to leave lasting memories!
Hire these Racing Simulators by contacting us today and making an enquiry. Our in-house team of Entertainment Specialists will be more than happy to provide further details on this driving experience day and assist you in the booking process.
Prestige Karting Colne
Skidz Karting Swansea
Anglia Indoor Karting Ipswich
Q Leisure Albourne
Whilton Mill Kart Club
Premier Karting Reading