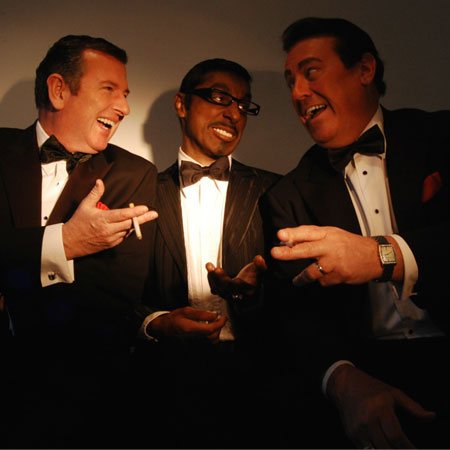 Rat Pack Tribute
Recreates the style, elegance & "pizzazz" of the Las Vegas "Rat Pack" era
Performing the unbeatable music of Frank, Sammy & Dean
Repertoire inc Come Fly With Me, Mr Bojangles, New York, New York...
Perfect for corporate events, weddings, Vegas-themed parties
Based in on the Costa del Sol, Spain & available to perform worldwide
This incredible Rat Pack Tribute show is closest to the real thing you are ever likely to experience!  With a vocal and visual delivery that has to be seen and heard to be believed, Martin (Frank Sinatra), Dave (Dean Martin) and Tomas (Sammy Davis Jnr) effortlessly recreate the style, elegance and "pizzazz" of the Las Vegas "Rat Pack" era.  
That's right, it's Las Vegas 1964, the dice are rolling, the bartenders are pouring and the atmosphere is electric because the boys are in town and there's gone be a party!  This dynamite show encompasses the personalities and unbeatable music of Frank Sinatra, Dean Martin and Sammy Davis Jnr at the very height of their profession in the swingin' 60s.  
This is not just three guys singing like Frank, Dean, Sammy, this is three guys being Frank, Dean and Sammy.  From the bar-room gags to the non-stop banter, the iconic humour is as impressive as the impeccable delivery of the musical repertoire.  Each performer perfectly captures all of the personality and charisma of the original character, showing enthusiasm and professionalism at all times in this two hour extravaganza.  
And what a repertoire!  Come Fly With Me, That's Amore!, Mr Bojangles, Me and My Shadow, Volare, New York, New York, it's all there in one fantastic performance.
This Rat Pack Tribute show has been wowing crowds for the past three years on the Costa del Sol and at weddings, corporate and public events throughout Europe.  For the most authentic reproduction of the three biggest Las Vegas legends, look no further.  This show is not to be missed and is perfect for every event.  It will lift you from your seat and leave you feeling alive and excited in a night that you will remember for a long time to come!