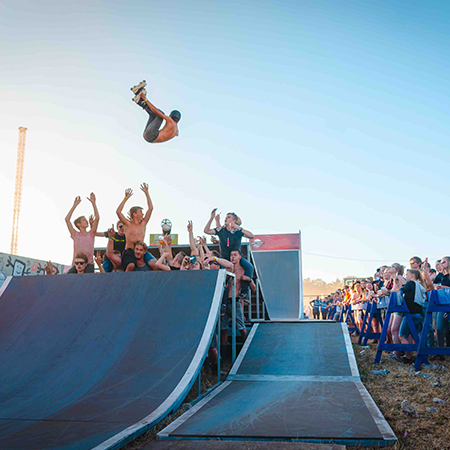 Roller Skate & BMX Stunt Shows
Spectacular extreme sports displays fill your event with adrenaline and leave viewers in awe
Team of extreme roller skaters led by former World Champion perform mind-blowing grabs, spins and flips
Previous clients include Redbull, Adidas, Canon, Sportlife, L'Oreal, Unive Verzekeringe, etc.
Extreme sports displays are popular entertainment for festivals, sporting events, half time shows, promotional events, etc.
These Roller Skate and BMX Stunt Shows are available for bookings in Holland and worldwide
Roller Skate & BMX Stunt Shows PHOTOS
Blow crowds away at your upcoming big event with spectacular Roller Skate and BMX Stunt Shows, live entertainment suitable for festivals, sporting events, halftime shows, promotional events, and many more!
Led by former a former World Champion, this team of extreme roller skaters execute breathtaking roller skating stunts that leave audiences in awe. Guaranteed to fill your event with adrenaline, these extreme sports displays will instantly become a hit among audiences of all ages!
Our extreme roller skaters have travelled the world and entertained both small and large crowds with their signature roller skating stunts. Discovering the cities they visit from a new perspective, these inline skaters transform any space or city into their own skatepark.
Delivering high-energy roller skate stunt shows for different types of events, this stunt team can adapt their live performances to different performance spaces and audiences. Making use of different equipment such as half-pipes to jump high in the air, the team performs grabs, spins and flips jumping a distance of several meters. 
Able to jump over large crowds, those brave enough to fill the gap between the half-pipe and the landing area will get an impressive perspective of the team's roller skating stunts. Not only people can fill that gap though: cars, DJ booths, food carts, break dancers, etc. 
Top Tip:
Ensure the shows are more dynamic by hiring an MC that explains the tricks performed and interacts with the crowd.
Scarlett Entertainment offers a wide range of extreme sports displays for events in the Netherlands and worldwide. 
Enquire about these sensational Roller Skate Stunt Shows today by getting in touch with us today. Our dedicated team of Entertainment Experts will be delighted to answer all the questions you may have about extreme roller skating and assist you with your booking.
Dance Valley
Lowlands Festival
Redbull
SLAM FM Kingsday
Unive Verzekeringen
Adidas
L'Oreal
Move City Zurich
Rennes sur Roullettes
Sportlife
Zwarte Cross
Canon