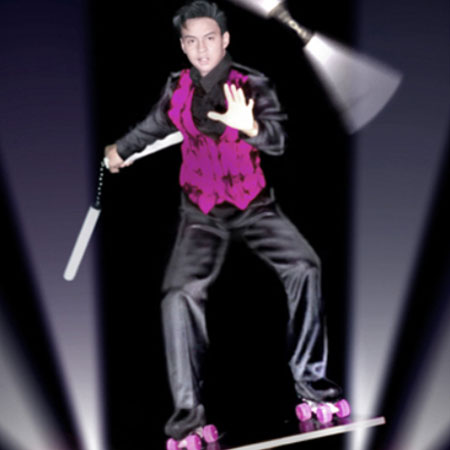 Roller Skate Show
Performs balance tricks with 4 stacked cylinders on roller-skates
All magically accompanied by pyrotechnics and special effects
As seen on stage, TV shows, and at corporate events across the world
Previous clients incl Red Bull, Grand Lisboa, Louis Vuitton
Based in Paris & available to perform at events worldwide
This Paris based Roller-skating show includes incredible balancing tricks with stacked cylinders, all magically accompanied by pyrotechnics and special effects.
This breathtaking show has been performed on stage, TV shows, and at corporate events worldwide.  Roller-skater Tom will enchant, excite and amaze the audience with his 'death-defying' routines.  Tom is still today the only one to perform balance tricks with 4 stacked cylinders on roller-skates.
This act is a truly unique act in the history of variety shows!
Istinye Park Istanbul TURKEY
Wintergarten Berlin GERMANY
TV Show Le Plus Grand Cabaret Du Monde FRANCE
Meridien Hotel Dubai UNITED ARAB EMIRATES
Gala Grand Prix D'Amerique FRANCE
Gardaland ITALY
Pegasus Varieté-Theater GERMANY
GOP Varieté-Theater Bad Oeynhausen GERMANY
Thomson
Peugeot
Grand Lisboa Macau CHINA
TV Show Le Plus Grand Cabaret Du Monde FRANCE
TV Show Extreme Gong USA
Cruise lines MSC
GOP Varieté-Theater Essen GERMANY
Friedrichsbau Varieté-Theater Stuttgart GERMANY
Gala 1er Ministre Matignon FRANCE
TV Show TV5 MONDE
Wanadoo
Louis Vuitton
Fantissima Phantasialand GERMANY