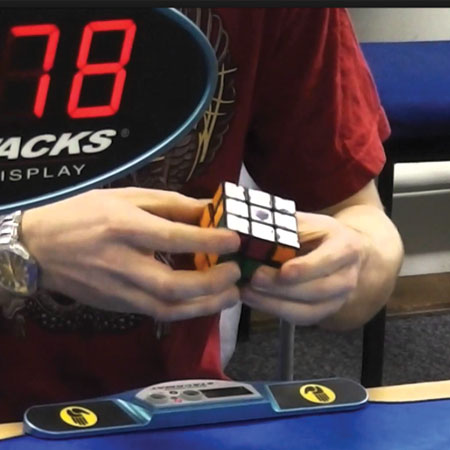 Rubik's Cube Solver
Rubik's cube champion amazes guests with this incredible speed & skill
Cuboid performer possess the National Record for solving the 2x2 and 3x3 cubes
Our puzzle master solve the 3x3 cuboid one handed & blindfolded
Able to perform at trade shows, fairs, corporate events & more
Based in Sheffield & available to perform at events worldwide
Scarlett Entertainment's champion Rubik's Cube Solver will amaze guests & audiences with this incredible speed & skill. Possessing the National Record for solving the 2x2 and 3x3 cuboid, our braniac puzzle whizz can solve the 3x3 cuboid one handed & blindfolded!
Able to solve any cuboid from 2x2 to 5x5 and even larger, this Sheffield based Rubik's cube solver champion will win over audiences at trade shows, fairs and corporate events when he solves a cuboid in just 10 seconds!
A true professional, he has been solving the cube since 2006 and can solve any cube including Pyraminxes, Megaminxes, and Square-Ones. Our champion performer can also create bespoke performances on request to add a personal touch to your event! 
Providing quirky and unique entertainment, this cuboid master is sure to charm and delight guests of all ages. Enquire at Scarlett Entertainment UK today for more information about hiring this performer for your next event.
Top Tip!
You can also ask our Rubik's Cube Solver to provide a workshop, explaining some of his secrets to solving one of the world's most difficult games!