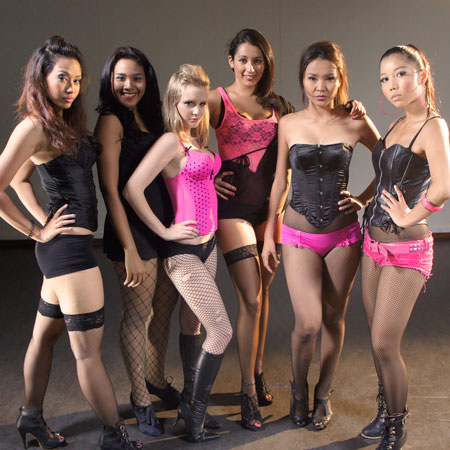 Sassy Singapore Singers
Totally tantalising and sophisticatedly sassy song and dance performance
Hybrid of a classic cabaret show and burlesque performers
Customisable costumes, songs and stage routine
Up to 20 performers available for a single show
Based in Singapore and available throughout Malaysia
Sassy Singapore Singers PHOTOS
Turn up the heat at your next event with a dance act cabaret show that is totally tantalising and sophisticatedly sassy. Imagine burlesque performers without the actual burlesque act. The group of female singers deliver a fiery show that lies considerably more on the sexier side than your typical stage performance and guarantees to engage the audience with their scintillating song and dance performance.
If you're hosting an event that is a little bit more edgy or looking to make an impression, your guests will be positively blown away by the Sassy Singapore Singers as they flaunt, strut and and sing their way through a tasteful naughty but nice cabaret show. Blurring the line between a collective of female singers, dance act and burlesque performers, this cabaret show will captivate the spectator with a visually feast and a delivery of songs that they will know very well.
Taking to the stage dressed like contemporary burlesque performers, our Sassy Singapore Singers' cabaret show features a choreographed dance act to medleys like Christina Aguilera's Express, from her Burlesque musical film and the classic Lady Marmalade or cabaret show classics like Big Spender mixed with newer pop songs. The female singers deliver their own renditions of the songs each taking turns in singing lines from the song so you get a chance to hear each one of the burlesque performers sing. 
The female singers' dance act is fully customisable to suit your requirements. There are multiple amounts of burlesque performers to chose from, you can have a tailor made and specially choreographed dance act and the female singers can customise the performance to include songs of your choice. The Sassy Singapore Singers are happy to customise their fantasy costumes and suit a specific theme.
Contact our team of Entertainment Specialists to book a tantalising dance act with female singers. 
IDEA ARTICLES RELATED TO Sassy Singapore Singers