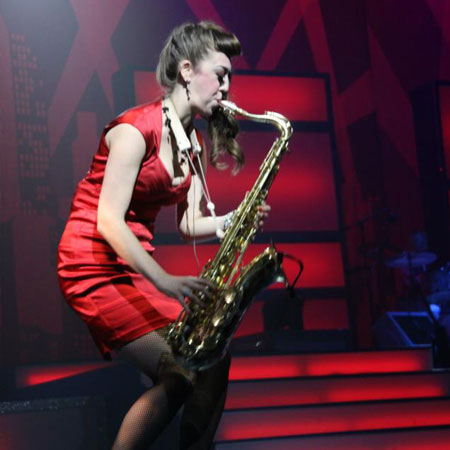 Saxophonist Marybeth
A multiple woodwind instrumentalist and exceptionally young talent
Welcomes anything from jazz, pop, and rock to classical genres
Musician who is embracing an ever-changing, versatile and exciting career
Will bring a dynamic musical experience to your next event!
Based in the USA and available to perform at events worldwide
Welcoming anything from jazz, pop, and rock genres to classical solo repertoire on saxophone, clarinet, and flute, Marybeth is a multiple woodwind instrumentalist and exceptional talent.
Embracing an ever changing, versatile and exciting career, she is in high demand at a range of events and has worked closely with Cirque Productions, further diversifying her skill set by adapting onstage movements and acting.
She has had the invaluable experience of studying with legendary LA studio recording artist Dan Higgins, who has played on over 400 major motion picture soundtracks and provide audiences with exciting performances across the globe.
Most recently, Marybeth has performed on the critically acclaimed Norwegian EPIC, which included performances with the Blue Man Group Band and has also been involved with national tours at the Nokia Theatre in LA, to wind ensembles at Carnegie Hall and Lincoln Centre in NYC. She has also played at the Fonda Theatre in Los Angeles with Josepth Gordon Levitt for his TV Premier, HitRECord on TV.
Currently located in New York City, Marybeth is an exceptional young talent who will bring a dynamic musical experience to your next event.
Contact us today for more information!
" An energetic, varied score accompanies the performances featuring vocal performance by the reporter and incredible saxophone solos by Marybeth. "

KARA POHLKAMP, BROADWAYWORLD.COM
" Marybeth's moaning saxophone emits waves of seduction. "

BRADLEY TROLL, THE TIMES-PICAYUNE
" What makes this production special is the work of the 26 performers and the brilliant saxophone playing by Marybeth. "

ALAN BRESLOFF, CHICAGO CRITIC
" Saxophonist Marybeth strolls through the show like a wandering minstrel making merrily magical music with her sexy saxophone, producing amazing riffs and hauntingly soulful musical memories. "

BUZZ BELLMONT, THE HOUSTON CHRONICLE