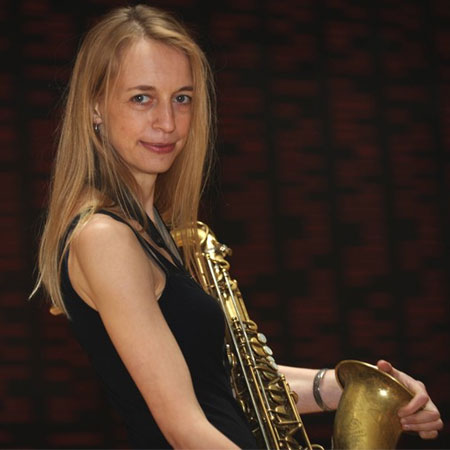 Saxophonist Regina
Talented, stylish and highly experienced female saxophonist
Can perform the sax on stage, in the background or as a walk around act
Also available as part of a duo or a renowned Jazz Quartet
Program includes selected pieces from jazz, Latin, pop and soul
Based in Karlsruhe & available to perform at events throughout Germany
Saxophonist Regina VIDEOS
Saxophonist Regina PHOTOS
German based saxophonist Regina is hugely versatile, performing a wide variety of musical styles including selected pieces from jazz, Latin, pop and soul.
This talented and stylish saxophone player has performed for high profile clients throughout Germany, whether it be on stage, in the background or as a walk around act.
Regina is available as part of a duo -
Regina - vocals, saxophone
Axel/Olli - piano or guitar, vocals
And also as part of a renowned Jazz Quartet consisting of -  
Regina - Vocals, saxophone, violin 
Michael Heise - Bass
Olli Taupp - Keyboards, piano         
Tobi Zeller - drums 
Whether in concert or as an accompaniment to your corporate event or private party - Regina hits the right note.
Holiday Inn Karlsruhe
Schlosshotel Bühler Höhe
Zum Ochsen Karlsruhe Durlach
Steigenberger Hotel Mannheim
Stuttgarter Landtag
Kammgarn Kaiserslautern
Jazzclub Karlsruhe
Jazzfestival Idstein
u.v.a.
Corporate Events:
Learntec Karlsruhe
Musikhaus Thomann
Daimler Chrysler Gernsbach
Stadtfest Mannheim
Lanzparkfest Mannheim
Stadtgeburtstag Karlsruhe
Kamuna Karlsruhe
Höpfner Burgfest Karlsruhe
Watthaldenfestival Ettlingen
Zwiebelfest Darmstadt
Hotels Clubs:
Renaissance Hotel Karlsruhe
Schloß Eberstein
Deutsches Weintor Schwaigern
Hotel Schwert Rastatt
Brotfabrik Frankfurt
Mannheimer Feuerwache
Jazzclub Wörth
Radio Regenbogen Award VIP Lounge
Verbrauchermesse Friedrichshafen
IHK Pforzheim
1 und 1 Karlsruhe
Vollack Karlsruhe u.v.a.
Festivals:
Altstadtfest Ladenburg
"Das Fest" Karlsruhe
Ludwigsplatzfest Karlsruhe
Tempelfest Karlsruhe
Marktfest Ettlingen
Bretten live!
Allee Hotel Karlsruhe