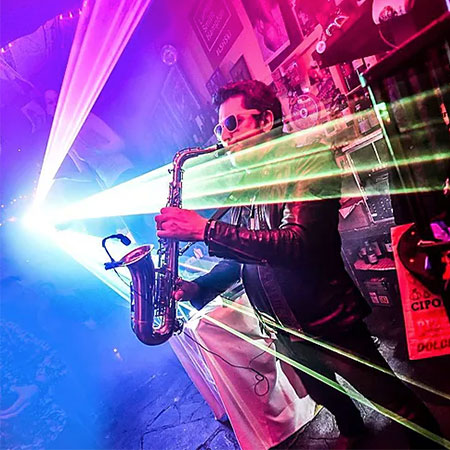 Saxophonist Tristan Joutard
Outstanding sax player with a strong reputation among live musicians
Performed with numerous DJs to spice up their own Clubbing sets
Played at Nikki Beach Saint Tropez to Les caves de Courchevel
Previous clients include brands such as Red Bull, BMW, Puma, Monaco Formula One GP
Tristan Joutard is based in Lyon and available to perform at events worldwide
Saxophonist Tristan Joutard PHOTOS
Transform any event into a real celebration by booking Tristan Joutard, a Lyon-based saxophonist with years of experience in the entertainment industry. Over a number of years, this outstanding sax player has built a strong reputation among live musicians, and has been in demand by numerous DJ's to boost and spice up their own Clubbing sets with a hot and high level Live show.
From Nikki Beach in Saint Tropez to Les Caves De Courchevel or La Folie Douce Val D'Isère, he runs through the hottest festive spots, with his snaky, groovy, stylish Sax! This house saxophonist regularly performs with other performers such as DJs and live musicians. Happy to collaborate with different artists, he will quickly bond with other musicians and DJs. If booked as a soloist, he can perform with backing tracks and adapt his repertoire to your requirements. 
This live solo musician can adapt and tailor his performances to your needs. He can perform both indoors and outdoors and roam around your venue whilst playing his instrument! When performing with DJs, he won't hesitate to jump off the DJ cabin and join crowds on the dance floor! 
Especially popular for nightclubs, VIP parties, cocktail lounges, receptions and corporate events, our club saxophonist is also an in-demand live musician for festivals and any other special occasion requiring live house sax music. Whatever the occasion, he is guaranteed to bring any party to life with his unstoppable energy and high-energy performance!
Scarlett Entertainment offers a wide range of live music entertainment options for events and nightclubs in the French Riviera, all across France and worldwide. 
If you're interested in booking Tristan Joutard, then don't hesitate to get in touch with us today and make an enquiry. Our dedicated team of Entertainment Experts will be more than happy to provide further details on this sax player from Lyon and assist you in the booking process.
Monaco Formula One GP
Davidoff
Mérieux
Oval Green Trophée
Cegid
Pommery
Red Bull
Alfa Roméo
Ernst & Young
Puma
BMW
Gstaad Palace
Icewatch
Les Toques Blanches
Bouygues...
Baselworld