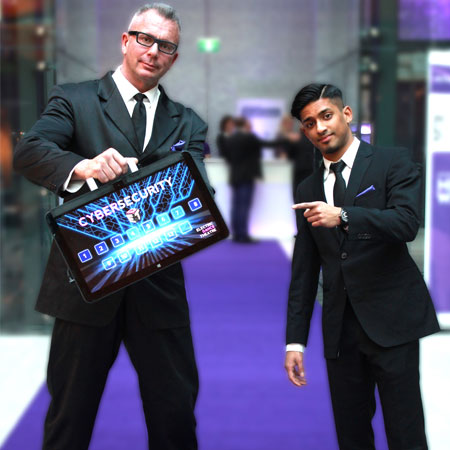 Security Walk Around Act
A fun comedy act that will interact with guests right from the outset
Comedy security guards act as a great icebreaker as guests arrive
LED screen can be customised to display specific items & logos
Perfect for corporate events, awards ceremonies, VIP functions & more
Book our comedy security guards for events Frankfurt, Europe & worldwide
If you're looking for a walkabout comedy act or comedy entertainment that will get your guests engaged the moment they arrive at your event, book comedy event security! These comedy security guards are a hilarious comedy act and the perfect icebreaker.
Dressed in smart black suits - Men In Black style - these guys aren't just any old event security. They possess the latest in event security technology and with their high-tech tablet can x-ray your guests for any contraband and check that they're on the guest list in one quick sweep. You'd be surprise by all manner of curious things that are found upon your guests - butterflies in the stomachs, folks in their lunches, even the odd company logo or two!
Our comedy event security will apprehend your guests at your venue entrance, making a big show of ensuring that everything is present and correct and that each guest is  actually who they say they are. Experts at engaging with all kinds of people and getting them laughing, these comedy security guards are the perfect comedy act if you want to break the ice before guests even enter your event.
Everything displayed on the tablet can be customised to your specifications, incorporating specific objects, images and logos according to your brief. This comedy entertainment act is perfect for corporate events, awards ceremonies and VIP functions, adding a humorous edge to proceedings.
Able to tailor our walkabout comedy act's entertainment packages to suit your specific needs and requirements, we are able to ensure that your event entertainment perfectly fits your event. If this act has inspired you, get in contact with our expert entertainment coordinators to discuss how it could work at your event. With plenty of customisable options available, there is no limit to the possibilities available for your event.