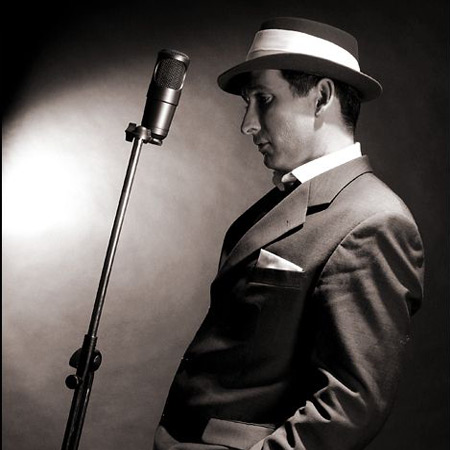 Sinatra Tribute Kevin
Acclaimed Sinatra Tribute artist known for his unforgettable live vocals
A multi-talented London born jazz singer, songwriter and bandleader
He performs supremely swinging, effortless renditions of difficult songs
Provides superb over-dinner entertainment, wow-factor and broad appeal
Based in the UK and available to perform at events worldwide
Sinatra Tribute Kevin VIDEOS
Sinatra Tribute Kevin PHOTOS
Sinatra Tribute Kevin is a London born jazz-swing singer/ songwriter/bandleader with a charismatic stage presence. He has entertained royalty twice and been booked by many celebrities & sports stars for important private events and has sung several times on TV (E4′s Made In Chelsea, BBC3 & Wedding TV). His exceptional vocal talent has been in demand for TV and radio commercials both in UK and Europe, including a TV advert with Hollywood movie star Naomi Watts and voice-overs for music publishers and for San Pellegrino, PriceDrop.TV. He's been booked by luxe brands like Hermes, Louis Vuitton for campaigns/promotions in Far East & London and he was star attraction at both the New York & London launches of deluxe book The Rat Pack (by Reel Art Press) and is recommended by no less a figure than the President of SINATRA MUSIC SOCIETY (Ken Barnes).
This acclaimed Frank Sinatra tribute, known for his unforgettable live vocal shows proves time and again why he's the first-choice Frank Sinatra singer for weddings, functions and corporate events on the scene today. He is favoured by luxury wedding planners, showbiz and sports stars, prestige brands and global corporations, and with his very broad appeal has sang at a hugely diverse number of events and weddings – both large and loud and small and intimate - everywhere from the local Golf Club to glittering ceremonies in European palazzos and chateaux and beyond.
Clients can choose from a vast repertoire of both the well and lesser known of Frank Sinatra's great music. And throughout the whole of Kevin's superb live shows he performs supremely swinging, effortless renditions of not just the less challenging songs but also those that are more vocally difficult.
You can book him as ether a Frank Sinatra Tribute Singer, or for the full look-alike/sound-alike experience you can book a complete in-character Frank Sinatra Tribute Act show.
Whether it's a mix and mingle act, memorable background sets, superb over-dinner entertainment, a wow-factor show or a full dance floor that's required, be assured of unforgettable live vocals and an entertaining set with a broad appeal, delivered with a superb sense of swing and enormous presence. Perfect for any wedding, party, function or corporate event worldwide.
Contact one of our Entertainment Co-ordinators if you need to more information about this or any other act on our roster.
Almost like being in love
Angel eyes
Anything Goes
Bad bad Leroy Brown
Blue moon
Brazil
Can't take my eyes off you
Cheek to cheek
Chicago
Come dance with me
Come fly with me
Fly me to the moon
For once in my life
Girl from Ipanema
Goody Goody
Have you met Miss Jones
If I could write a book
I get a kick out of you
In the wee small hours
It was a very good year
I've got the world on a string
I've got you under my skin
I won't dance
Lets face the music and dance
Lets fall in love
Love and marriage
Luck be a lady
Mack the knife
All or nothing at all
My kinda town (Chicago)
My way
New York New York
Nice and Easy
Night and day
One for my baby
Our Love is here to stay
Pennies from heaven
Please be kind
Saturday night (is the loneliest night of the week)
Smile
Something stupid
Strangers in the night
Summerwind
That old devil moon
That's life
The best is yet to come
The lady is a tramp
The way you look tonight
They can't take that away from me
Witchcraft
You make me feel so young
Young at heart
& many more...
Moonlight in Vermont
Radio 1 DJ/ TV Presenter Matt Edmondson
President Obama's Ambassador to London Louis B. Susman
Jamie Oliver Fabulous Feasts
ky Sports TV & ex-Harlequins Rugby star Mike Wedderburn
Monkey Kingdom Productions (E4 Made In Chelsea)
NBC Universal
Louis Vuitton
The Royal Horticultural Society
Dunhill International The Law Society
Ronnie Scotts Jazz Club
The Club @ The Ivy
And Many More
BBC TV 'Dragon' Peter Jones
Actress Samantha (Janus) Womack
Liverpool & England footballer Glen Johnson
Yorkshire & England Cricketer Anthony McGrath S
Swan Lake 3D Live film premiere
AEG(owners of The O2 Reel Art Press
Hermes-Paris
The Body Shop Foundation
Reed Exhibitions
The Metropolitan Police
Birdland Jazz Club New York
The Kabbalah Center
HRH Princess Margarita of Romania Trust
" With a perfectly natural timbre to his voice he immediately conjures up Old Blue Eyes in his glory years "

The Stage Newspaper
" Kevin captured Sinatra's suaveness and charisma and you could imagine Frank, himself, was singing "

Life Magazine
" I thought they were playing a CD (of Sinatra) until I came around the corner and saw it was you singing "

Shawn Levy, Author of US bestseller Rat Pack Confidential
" A glorious and honest rendition of Sinatra's 'Capitol' years, brilliant sound by singer and band alike "

L Stevens, Latest 7 Magazine
" I just wanted to say what a fantastic singer Kevin is as Frank Sinatra Tribute, he made my wedding day go off superbly. People haven't stopped talking about it and with Kevin singing I achieved the atmosphere I was looking for. Everyone thought he was fabulous so I can't thank him enough for making my day! "

Penny Pamplin, Essex
" While it's good to see so many Sinatra tribute shows up and down the country, most of them, I regret to say, are pretty poor. But one shining exception is Kevin, a singer with a naturally fine baritone voice, secure intonation, confident phrasing, a most agreeable laid-back personality, and flawlessly performed. You won't find a better evening's entertainment anywhere "

Ken Barnes, President of SINATRA MUSIC SOCIETY