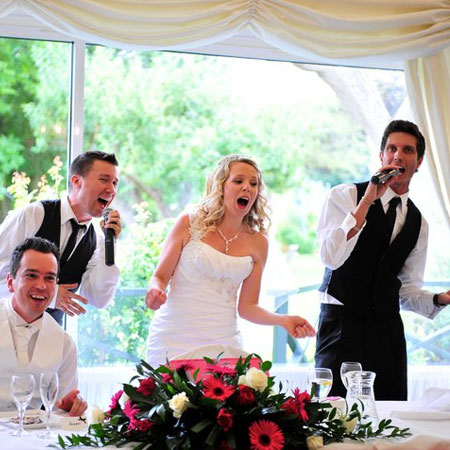 Singing Waiters
Male duo offering the ultimate surprise experience for your guests
Provides singing waiters, singing guests, singing firemen/chef/policeman
Performed for X Factor judge, Danni Minogue, Hollyoaks cast, Kevin Keegan
Previous clients inc Christian Dior, Waitrose, The Lansdowne Club, Mayfair
Based in the UK and available to perform at events worldwide
If you're after the ultimate in surprise entertainment then why not book the spectacular surprise Singing Waiters or Singing Guests show.  Have them mix and mingle in the disguise of your choice before they burst into song and dance.  An excellent way to make sure your party or wedding is talked about for years to come, they bring an edge of vibrancy and uniqueness to your event in a way that your guests will never see it coming.
Going undercover as either waiters, chef's, guests, policemen or even firemen, the possibilities are endless, they will blend perfectly in the background of your wedding before striking at the perfect point.  Imagine the look on your guests faces when the boys suddenly start singing something like "This Is The Moment" or "A Million Love Songs" from different points in the room.
They offer a wide repertoire of music from pop to Rat Pack classics and will perform either from your choices or from one of their set lists that they provide for you. The Singing Waiters believe that as it is your day, they try and personalise as much as possible to make this experience as unique to you as possible.
Singing Waiters
The singers mingle with the venue staff, helping serve drinks, canapes and the meal, making sure their faces are seen by your guests. Then, on behalf of the venue, they propose a toast and then burst into song. They can do a set with a mixture of music from Pop, Opera, Rat Pack and Musical Theatre, choosing songs that are special to you.
Singing Guests show
The singers mingle with the guests over welcome drinks as if the boys are part of the party, sowing the 'cover story' seed.  They sit for wedding breakfast, dinner, lunch, presentation, all the time convincing guests that they know the bride/groom from the heady days of old times, they are associates of the law firm, or old school friends or even shared a prison cell!  At your discretion they will burst into song interacting around the tables and bar with the aid of radio microphones, with the banter and charisma the original artists would have been proud of!
Corporate Surprise Singers
The Singing Waiters can give any corporate function, private party and award ceremony the WOW factor, aswell as injecting pzazz into any product launch or promotion as surprise singers.
They recently completed a "Birthday Bash" surprise for the UK's biggest selling Business Book author of 2011, Nigel Botterill, at a business seminar consisting of over 700 people.  To quote Nigel "They rocked the joint".
By using their musical and entertainment knowledge, they can come up with a bespoke idea, especially for your event, to help boost sales and increase product awareness.
The Lansdowne Club
Northern Rock
HM Army
Christian Dior
Mayfair
World Duty Free
And many more..
Waitrose
" Chris & Jamie thank you so much you two were just exceptional! The act was AMAZING! My friends and family are still talking about them a month later! They totally put the magic & fun into our our wedding breakfast and then night do. The suprises on everyones face was fab to see, I would've have paid double for this act, so very talented, fun, energetic & very accommodating with my song choices they just made the organisation of it all so easy! People have been saying to me it really truly was the best wedding they had ever been to, i'd like to pride myself on that but i know it was Jamie & Chris that truly made it extra special. If you're looking for that extra magic on your big day, that WOW factor, or for any special event I'd book these guys….NOW! I don't think you'd find better! A massive thanks to both of you, you deserve all the success in the world! "

Mr & Mrs Ivinson
" The boys were also truly fantastic, Their performance was first class and they interacted really well with the guests and got everybody up dancing and singing. Kelly and Simon thought they were brilliant and it was such a wonderful surprise and made the whole wedding breakfast go off with a bang. The great thing is that normal lull you get at a lot of weddings disappeared as this was filled with this uplifting show. The cabaret show they did just after the speeches was equally fantastic and they also performed the song for me to dance with my daughter which she loved. I can only say that Luke and Duncan were really accommodating and a wonderful act. If all your singers are as good then you have a truly amazing set up. I know some people asked for cards on the night and I think the chaps didn't have one but I will refer people to your web site.I would really recommend Singing Waiters to anybody. I think they were great value and of all things we arranged for the wedding this was the best. "

Andy and Pat Jaffray
" We just wanted to say a really massive thank you for putting on such a great show at our wedding on Friday. You were the highlight of the day for everyone and made our day so memorable! Your worked tirelessly from start to finish, from working under cover as the waiters, right through your performances and the disco until the end of the evening. Amazing voices and lovely guys to deal with – the best money we spent on our whole wedding! "

Sarah & Jamie
" You made our wedding rock and was so discreet that our guests had no idea who you were and when you burst into song they were shocked. We have been told we threw "the Best wedding ever and those singers we excellent", some people wanted to get remarried just so you could sing at their wedding. If anyone was considering using you for any event then they should consider no more. They would go a few million miles before finding anyone that can come close to you guys. I would really recommend Singing Waiters to anybody. I think they were great value and of all things we arranged for the wedding this was the best.Thank you again "

The new Mr & Mrs Field