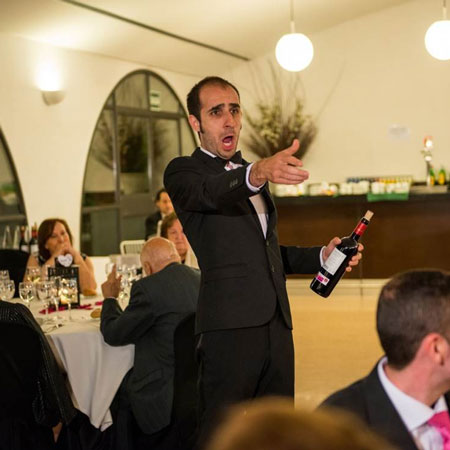 Singing Waiters Madrid
Fantastic surprise act will make your special occasion unforgettable
Live music entertainment provided by skilled singing waiters will delight guests
Professional vocalists perform a repertoire of classical, opera, and zarzuela
Ideal for weddings, gala dinners, parties, ceremonies, corporate functions, etc.
Opera singers available to hire for events in Madrid and across Spain
Astound and delight guests at your event with our sensational singing waiters, a wonderful surprise act who will make your special occasion a truly memorable experience as they provide unexpected live music entertainment for all to enjoy. Professional vocalists, these exceptional performers are certain to cause a real buzz as they pose as guests or event staff before suddenly revealing themselves to be accomplished opera singers with a phenomenal live performance at your event, ensuring that it is talked about for a long time to come!
Experienced and versatile, our singing waiters will work with you in order to create the perfect concept for your event, tailoring their set to suit the occasion and making sure that no one suspects a thing. Talented entertainers, our professional vocalists will disguise themselves as fellow attendees, waiters, security guards and more, putting on a believable front that will have your guests accepting everything as normal until the big reveal. Providing a spectacular performance that won't be forgotten in a hurry, this outstanding surprise act will then bring instant wow factor to your event with their incredible singing.
Performing a wide repertoire of classical pieces, opera, and zarzuela, our performers are bound to have universal appeal, with their impressive vocal range, passionate style, and charismatic stage presence creating a magical atmosphere and lasting impressions. Bringing contagious joy and a unique charm to all occasions, our opera singers are the perfect solution if you are looking to make your event stand out. 
Ideal for private parties, ceremonies, corporate events, weddings, gala dinners, conferences and more, our singing waiters are available to book for events in Madrid and throughout Spain.
Leading global specialists when it comes to all things entertainment, at Scarlett Entertainment we can supply you with fantastic surprise acts for private and corporate events around the world, with options available to suit all occasions, themes, and budgets. For more information on the live music entertainment choices we can offer, plus much more besides, contact our dedicated team of co-ordinators today.