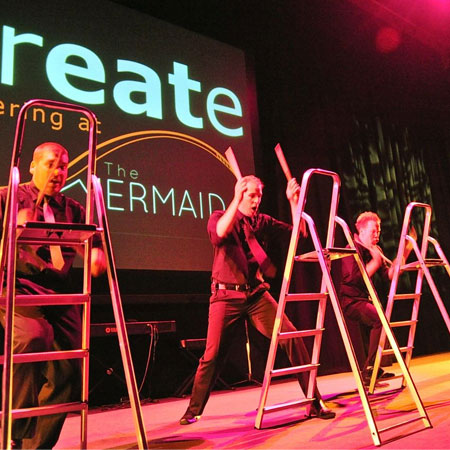 Slam Drumming Ensemble
Amazing percussionists create an incredible spectacle of sight and sound
Drummers have performed all over the world inc Korea, Europe & Doha
Avaliable as a suprise act that will leave guests gobsmacked
Performed for high profile clients inc Google, British F1 Race, Youtube
Based in London, UK and available to perform at events Worldwide
Slam Drumming Ensemble VIDEOS
Slam Drumming Ensemble PHOTOS
This amazing troupe of percussionists create an incredible spectacle of sight and sound as they present their dynamic and exciting sets of highly choreographed performance. The players use all sorts of objects to fuse together driving arrangements played on ladders, traffic cones, cars, exhausts, wheels, windows and anything else they can get their hands on!
The boys have been touring their show for the last five years all over the world. From motor shows in Korea to international conferences at Euro Disney, this hard-hitting percussion show is a top-notch act that will resonate in the minds of the guests long after the event. The team have also worked on launches of top brands (Gucci and BMW), fashion shows (NorthWest Fashion Week, CBS Fashion) and retail destination openings (Liverpool One, Birmingham Bullring).  The Drumming Ensemble have enjoyed overseas success with the Valencia Festival of Media this year alongside a Summer tour of Eastern Europe with a major car manufacturer.
Collectively the guys have played for The Beastie Boys, Avril Lavigne, Eminem, Florence + the Machine, Cicada and Tony Hadley on numerous shows including T4, MTV, Top of the Pops, The Brits, Smash Hits Poll Winners Party, Channel 5 and ITV. For private clients and organisations the boys have played at the British Grand Prix Ball Silverstone, two nights at the Royal Albert Hall opening for a big American cabaret star and at the Variety Club ball held at the Grosvenor House Hotel.
Starting within the audience as staff, audience members or security, the artists melt into the pre-show chitchat, serving or ensuring guest safety. The leading member of the team takes a well-timed fall and discovers the percussive possibilities of his spilled tray. Brushing aside offers of help from the audience the downed artist comes to life as a funky stylish drummer. From all four corners the security staff replies in percussive answers to the lead players call, suddenly they turn the space into a vibrant, percussive experience.
This cast can involve anything that the guests or client requires in their breath-taking shows (personal items, company goods etc).  The cast of five bright performers and percussionists rock through four routines of ear-catching rhythm that will leave your guests gob-smacked.
To book this surprise drumming ensemble, contact our team of entertainment experts who will be able to guide you through the booking process.
Amika
Lounge Lover
British Grand Prix Ball- Silverstone
Tower of London
Grand Order of Water Rats Ball
Olympics Opening – Doha Qatar
Google
Home House
One Leicester Sq
Variety Club Awards
European Festival of Media
Season opening Festival Alexandria Egypt
...and many more!
Youtube
" They were the highlight of our awards evening in Valencia. Their high impact performance stunned a usually cynical media crowd "

Claire Dewhirst, Event Director, Valencia Festival of Media
" This is the act that I want at every one of my events. Launches, Openings or just straight Cabaret; these guys rock!! "

Simon Tracey, MD Xcite Campaign Management
" An absolute triumph "

Russ Kane, Chief Barker, Variety Club Great Britain