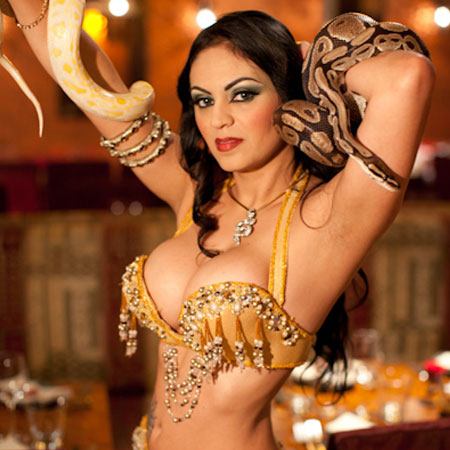 Snakecharmer
Mesmerise guests with the magnificent ancient art of snake dancing
Performs a Snake charmer walk about or a belly dance show with snake
Featured on national TV, danced for celebrities & performed for Royalty
Performances can include audience participation or meet and greet
Based in London & available to perform at events worldwide
This amazing belly dancer & snake charmer is perfect for walk about / stage shows.  Her different style, beauty and sensuality attract audiences of all types.  This performer has the knack of leaving a trail of breathless onlookers behind her.  
She has trained privately and in workshops with some of the world's best belly dancers. She is a highly acclaimed professional belly dance artist with over 10 years of experience in live performances, corporate events, product launches, private parties, weddings and stage shows.
The snake charmer has appeared at a variety of clubs, hotels, casinos and restaurants. She has featured on national and international television, danced for celebrities and performed for Royalty. She is currently the house belly dancer of several Middle East restaurants in London.
For a sensual and exotic touch to any event, allow our beautiful and highly skilled snake dancer to mesmerise your guests with the magnificent and hypnotising ancient art of snake dancing.  The performance can include mix and mingle with the guests, its a powerful combination of facinashion and intrepidation.  Also include a sensual Egyptian or belly type dance with the snake if appropriate to the venue or guests.
A belly dance performance with snake lasts 5-10 min. A standard mix and mingle performance is 20-30 minutes.
Merah club
Guanabara club
The Dorchester
Pround gallery club
Chinawhite
O2 Telephone
Walk about
kings club
Rittz hotel
Momo
Cirque du soir club
Jimmy Jam Events
Pasha club
Hilton hotel
Raduga club
Lycamobile
Record Tv
Sports cafe
Sky one
Movida
Park Lane Hotel
Tantra club
" The Snake & Belly Dancer was fantastic and went down extremely well! I was a bit worried that people might be a bit freaked out but no – she was the star of the party! "

Reading Room Ltd