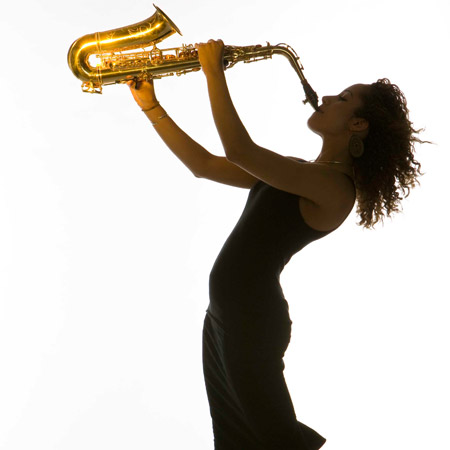 Solo Female Saxophonist
Solo saxophonist to dazzle audiences with her incredible virtuoso playing
Acclaimed female saxophonist perfect for creating a vibrant and stylish mood at parties, events and festivals
Brilliant saxophonist has played with some of the biggest names in pop and soul music including McFly, Fleur East, BB Diamond and Billy Ocean
Sax player has wowed audiences at major corporate events for Jaguar, Microsoft, Landrover and many more
Stunning saxophone player available for events across the UK and worldwide
Book our brilliant female saxophonist and experience a virtuoso performance from one of the UK's most accomplished musicians. Our saxophonist will amaze audiences with her dazzling skill and powerful performances. Working with Hedkandi Live she has toured worldwide at venues and festivals and has recorded at Maida Vale, Abbey Road and Pinewood Studios. Guests at any event will be hooked by our sensational solo saxophonist and her electrifying performances are sure to create a huge excitement and buzz wherever she plays. This saxophone player has studied with the best in the business and performed all over the world with some of the biggest names in pop music as well as performing on BBC Radio 1 and playing in arenas and festivals all over the UK. Book our incredible sax player for a stunning performance that guests will be raving about for weeks afterwards.
Our amazing saxophonist is the perfect choice of smooth and stylish entertainment for corporate events, private parties, festivals and cabaret nights, and her glamorous look and unbelievable talents are sure to make a big impression whenever she takes to the stage. This incredible female saxophonist has performed on stage with some of the biggest stars in show business including Billy Ocean, McFly, Fleur East, and BB Diamond. Our saxophone player has played with the London Irish Symphony Orchestra, London Arts Orchestra and the National Saxophone Choir of Great Britain.
This acclaimed sax player has taken the corporate events world by storm, playing solo shows or providing breath taking improvised accompaniment to big name dance acts like Ministry of Sound. Our solo saxophonist's expressive and soulful playing has earned rave reviews at the O2 Arena, the Edinburgh Fringe Festival and at corporate events for Microsoft, Landrover, Jaguar and Chelsea FC. 
Scarlett Entertainment brings you a fantastic range of saxophonists and live music for weddings, corporate events and occasional of all kinds.
To book one of our amazing acts, simply contact our helpful team.
Jaguar
Glaxo Smith Kline
Chivas
Barbarian FC
O2 Arena
Edinburgh Fringe Festival
St John's Smith Square
South Bank Centre
Dolce & Gabbana
Land Rover
Canary Wharf Fashion Show
Chelsea FC
The London Marathon
London Palladium
Rhythms of the World Festival
Cadogan Hall
Microsoft