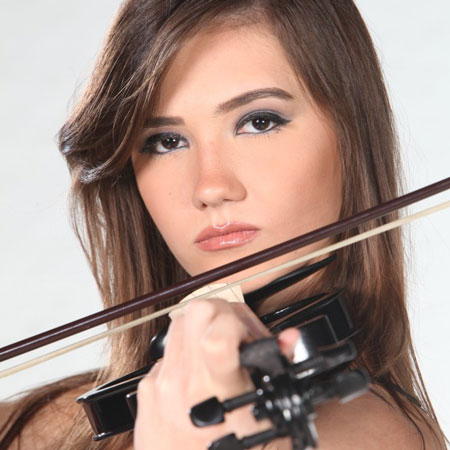 Solo Violinist Lebanon
Beautiful and remarkable female violin player skilled in a variety of playing styles
Brilliant live music show featuring an assortment of classical and swing covers
Fantastic solo violinist performs solo but can be combined with other musical acts
Perfect violinist for private parties, receptions, weddings, corporate functions, etc
Instrumentalist available for booking throughout Lebanon and worldwide
Hire our brilliant female violin player, and treat your upcoming special event to a memorable solo violinist who will compliment your social gathering with an assortment of soothing tunes. Keeping your guests feeling refreshed and upbeat from start to finish, our talented violinist will create an exceptional carefree environment that will stimulate the mind, and highlight our dazzling instrumentalist. Your guests are bound to fall head over heels for our live music show experience, as its an adaptable and fun filled live performance that will take your special event to the top.
Bound to leave lasting impressions, our sensational solo violinist will deliver a high quality soundtrack to highlight specific key moments of your event, and can include a number of classical arrangements that includes a raving cover of Frank Sinatra's "My Way." Our professional and experienced female violin player will provide a few unique twists throughout her live music show, paving a path for your guests to hit the dance floor with our roaming violinist. Delivering a vast repertoire that will ease throughout your gathering, our instrumentalist will leave guests with memorable experiences.
Our dazzling and remarkable female violin player is available for booking for a number of different sized events, and can perform easily as an outstanding solo violinist, but can also offer her instrumental knowledge in a collaboration with a number of different musical acts. Creating an explosive and highly memorable live music show experience, our fantastic roaming female violin player will provide a "wow" factor seal of approval that will keep your event within conversations for weeks. The ideal musical option for private parties, drink receptions, ceremonies, weddings, gala dinners, and much more. 
Contact any of our amazing Scarlett Entertainment team members if you are interested in booking our wonderful and beautiful solo violinist for your upcoming special event or gathering.