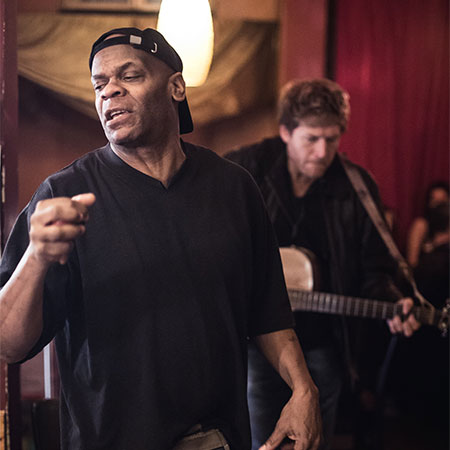 Soul Live Covers Duo
A male vocalist and an acoustic guitarist playing fully live at your evening event
Wide repertoire includes Motown's classics, jazz beats and modern popular R&B songs
Can play songs on request to satisfy demanding audiences
A perfect entertainment option for evening events, urban music clubs and night-time celebrations
Based in Germany and available for international performances
Soul Live Covers Duo VIDEOS
Take audiences on a journey from modern music to the Rhythm and Blues scene of the 60s with this Acoustic Covers duo. During their three-hour covers songs show, they will transport guests at your event to 1960s Detroit. A funk & soul band that can take you around modern music history and that will make crowds sing at the top of their lungs.
This live music duo's wide repertoire includes popular Motown's chart-topping songs such as 'Want you back'  by Jackson 5, 'My Girl' by The Temptations and the very well known 'Let's get it on' by Marvin Gaye. Their live acoustic performance is also designed to satisfy rock and rollers taste. Therefore, it's not unusual to hear them sing some of the greatest hits by the Rolling Stones such as 'Satisfaction'. Does your audience demand more melodic tunes? They also play the world-famous hit by Frank Sintara's 'Fly me to the moon', among others. You can check their set list by clicking the tab above and see for yourself the variety of songs they play.
Performed by a male vocalist and a guitarist, our cover songs show has been designed to delight a wide range of audiences. That's why this live music duo is always happy to sing any soul, funk, jazz and pop song on request. In the past, they have successfully performed at evening events, urban music clubs and different night-time celebrations.
This versatile funk & soul band can also play with other musicians including an electric guitarist, a bass guitarist and a drummer. They can work their magic on the crowd in Germany and overseas. They love to interact with their audience and make them part of their show, which makes them the perfect entertainment option for demanding spectators.
Bring the best of Motown, funk music and jazz beats to your event by booking this outstanding Acoustic Covers Duo. Get in touch with our in-house team of entertainment specialists today and make your enquiry. 
All Night Long (Lionel Richie)
Baby I love your way (Peter Frampton) 7. Georgie (Ray Charles)
Billie Jean (Michael Jackson)
Dock of the bay (Otis Redding)
Don't Look Any Further (Dennis Edwards) 24. I'll be around (The Spinners)
Easy like sunday morning (Faith No More)
Fly Me to the Moon (Frank Sinatra) 9. All of Me (John Legend)
Fresh (Kool & the Gang)
Give me the night (George Benson)
Happy (Pharell Williams)
Is this love (Bob Marley)
Let's Stay Together (Al Green)
Let's get it on (Marvin Gaye)
Lovely Day (Bill Withers)
Ain't No Sunshine (Bill Withers)
Master Blaster (Stevie Wonder)
My Girl (The Temptations)
Power of Love (Huey Lewis)
Satisfaction (Rolling Stones)
Sexual Healing (Marvin Gaye)
Stay With Me (Sam Smith)
Superstitious (Stevie Wonder)
Tired Being Alone (Al Green)
Too Hot (Kool & the Gang)
Want You Back (Jackson 5)
What's Going On (Marvin Gaye)
When Doves Cry (Prince)
Wonderful World (Louis Armstrong)
Man's World (James Brown)