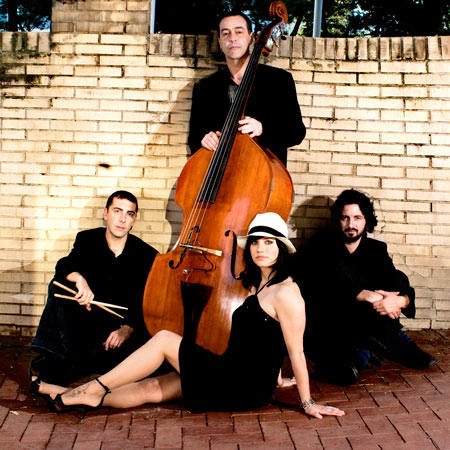 Spanish Jazz Band
Brilliant Spanish jazz band will amaze your guests
Exceptional jazz musicians perform a variety of songs from multiple genres
Wonderful live music show filled with high energy, elegance, and sophistication
Perfect jazz band for private parties, corporate events, gala dinners, and more
Book female led band for events throughout Spain
Book our elegant and sophisticated Spanish jazz band that is comprised of skilled jazz musicians and a fully talented female vocalist. Performing a dynamic and high energy live music show, our jazz band is bound to turn heads and win over your guests with instant success.
Allow our female led band to take your guests on a sensational journey through their assortment of cover songs that span a variety of genres that will captivate your guests with ease. A high energy and upbeat jazz performance that is sure to keep your guests engaged and entertained from start to finish. 
Consisting of a led female vocalist, and an assortment of line ups that are constantly switching up our jazz musicians, our wonderful live music show will blow your guests out of their seats onto the dance floor. Our versatile female led band can adapt their live performance to fit a variety of special event themes or style guidelines, creating a highly dynamic entertainment option that is both memorable and captivating. Creating a unique experience, our Spanish jazz band will not disappoint and are bound to leave your guests with unforgettable memories. Treat your guests to our jazz band today. 
Putting a unique and modern twist on classic and modern pop hits and jazz standards, our exceptional Spanish jazz band are the real deal when it comes to delivering a dynamic live music show experience! Our jazz musicians will perform with precision to detail and memorable dedication that ensures your guests stay entertained throughout the duration of our live music show experience.
An elegant and sophisticated experience, also happens to be the perfect live music performance for private parties, gala dinners, corporate functions, music festivals, wedding receptions, drink receptions, ceremonies, and more.
Contact our amazing Scarlett Entertainment team of event specialists if you are interested in booking our phenomenal female led band for your upcoming special occasion.