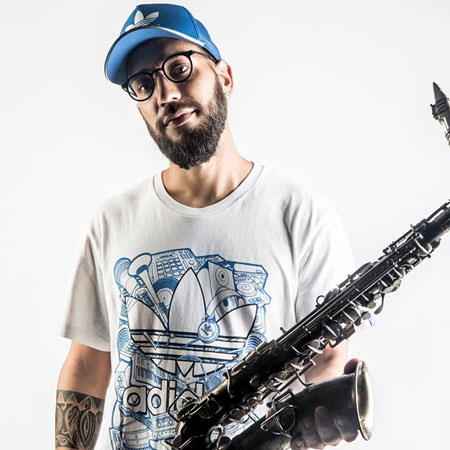 Spanish LED Saxophonist
Spanish LED Saxophonist captivates audiences with his fresh and elaborate performances
Has shared the stage with DJ Nano, DJ Randy Garcia, Alexandra Stan, Lara Taylor, Lorena de Tena, Inna and more
Our saxophonist and DJ has played at Pacha, Space, Hed Kandi and Eden in Ibiza as well as performing at Nikki Beach in Mallorca
A talented musician who can play the saxophone, flute, vocoder, electric sax and ethnic instruments such as the Bansury and Ney
Based in Mallorca Spain and available for worldwide bookings
Spanish LED Saxophonist PHOTOS
An exceptional Spanish LED saxophonist whose fresh and lively performances thrill guests and ignite the room, this Mallorca saxophonist can perform as a soloist as well as with a DJ for the ultimate party. Fusing live music with top class DJing this DJ and Sax duo blow the roof off of every event.
Bouncing off one another this incredible DJ and sax duo boast an electrifying performance that is perfect for brand launches, cocktail hours, pool parties, nightclub events and any occasion that desires an exciting duo to play all of the hits as well as provide electrifying live sax music!
A versatile musician who plays the saxophone, flute, vocoder, electric sax and other ethnic instruments such as the Bansury from India and the Ney from Egypt, our saxophonist is considered to be one of the best musicians in Spain. 
Having shared the stage with artists such as Dj Randy Garcia, Dj Nano, Lorena de Tena, Dj Uner, Dj Edu Imbernon, Dj Gonzalo Menoyo and Pakito Baeza our LED saxophonist creates a stunning musical accompaniment for every DJ and nightclub.
 
Performing as a solo sax player as well as with a DJ and fellow musicians and singers, this exceptional Spanish LED saxophonist has played in famous and worldwide recognised places such as Pacha, Space, Hed Kandi and Eden in Ibiza as well as Nikki Beach in Mallorca, Beach Party Cocoloco in Punta Cana, Wahm in Doha and many more.
With extensive experience performing at beach clubs, pool parties, brand launches, corporate events and nightclubs, this top class saxophonist is the ultimate entertainer for all occasions. 
Having taken part in major events such as the Final of the King's Cup Sailing MAPFRE in Mallorca, advertising campaigns for Blackberry in Madrid, the annual party of EUROPA FM and more.
To book our Spanish LED Saxophonist or for more information, contact our Entertainment Specialists today.
Contra Bar Noruega
Eden Ibiza
Hed Kandi Ibiza
Joy Madrid
Kube Madrid
Macao Alicante
Mandala Almeria
Nikki Beach Mallorca
Pacha Valencia
Space Ibiza
Wahm Doha
Beach Party Cocoloco Punta Cana
EUROPA FM
Es Paradis Ibiza
Isla Marina Alicante
Juaja Alicante
MAPFRE 2017 Mallorca
Mae West Granada
Marmarela Alicante
Pacha Ibiza
SABRINA Madrid
Titos Mallorca
Blackberry Madrid