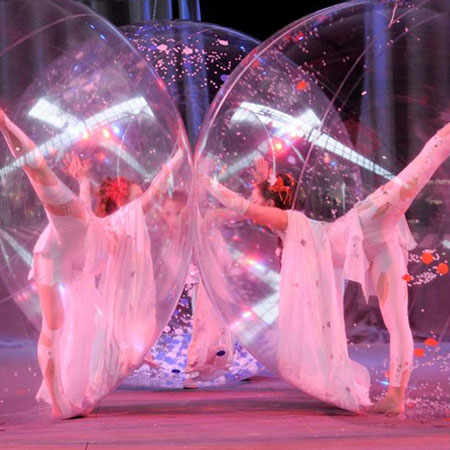 Sphere Act
Unique & exciting act providing walkabout acts in giant plastic bubbles
Ideal for trade shows, exhibitions and product launches
Available with 1-4 giant spheres and performers
Can perform either as a walkaround act, a stage show or on water
Based in Berlin, Germany and available to perform Worldwide
A worldwide acclaimed group of highly trained and multi-disciplined performers from Berlin - playing in, around and above delicates and magic transparent spheres.  They propose 8 different acts performances for event, gala, festival, trade fair, cabaret, variety entertainment, circus.
Have you ever seen a fairy walking on the water?  
An elf flying above a sphere?
Two characters in one globe looking for each other?
They do it with circus artists, dancers, floor acrobats, aerials acrobats, mimes and musicians.  With their cristal balls they are famous for their astonishing acts and their professionalism.  The dynamic staging mix dance and acting with the «bubble move» technic and choreographies to become a reference of this new circus show.
The perfect entertainment option for those looking for something unique and unusual to inspire guests, and leave them with a lasting impression.
The specialists of the bubbles performances presents seven different acts with the spheres and can create special shows adapted to your special events, desire and needs!
Specially created as a highlight for your festivities with unforgettable moments from a poetic and romanesque universe. It will seduce every audience.
With 1, 2, 3, 4 ... or more bubbles/artists.
For indoor or outdoor.
For stage or smooth floor.
ACTUAL CREATIONS
SHOWS
- Eldile
bubble solo (4 or 6 min.)
more than 1 bubble (6 or 8 or 10 min.)
- Sphère Céleste (11 min.)
trio with 1 sphere, 1 tissue-trapeze and 1 musician violinist
- Sensia (6 min.)
solo hula hoop in 1 bubble
- Anémones (7 min.)
2 dancers in 1 bubble
- Onde Océane (7 or 10 min.)
floating bubbles on the water – 1 to 8 bubbles
- Passage Traiasc (9 min.)
2 or more bubbles and 1 or more aerial artists
- Coriolis (7 min.)
from 6, 8, 10 to 12 ... or more bubbles
choreography for big space, stadium
WALK-ACTS
- Nebula Swing (15 min.)
1 to 8 bubbles
- Anémones (15 min.)
2 dancers in 1 bubble
Philip Morris
Microsoft
Cannes Film Festival
Audi
IPL Cricket
ABN AMRO bank
WELLA annual Trend Vision Award
Siemens
AEB International Artists Event Fair
Philippe Starck event
Fantastischen Nacht der Degewo
BMW
Hans-Peter Gratz with the Munich Philharmonic Orchestra
And many many more...
Volvo
European Politicians Event
Danone Activia
2
Porsche
Samsung
SchneiderForm
Berliner Volksbank
Best of Events 2011
FoedererDFK
Cospar Opening Awards Ceremony des Weltraumkongresses
Fortis bank
ASML
AZO GmbH + Co
LG
IDEA ARTICLES RELATED TO Sphere Act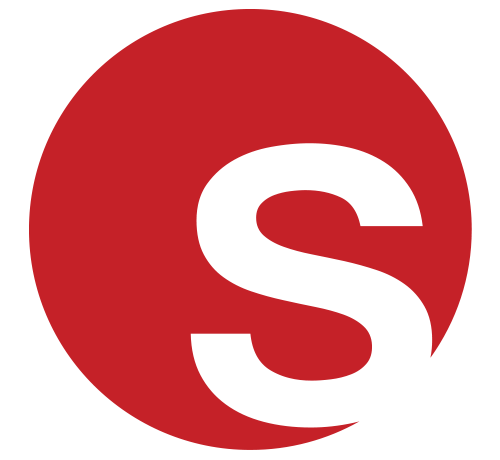 The Greatest Show On Earth 250 Years Of The Circus
The Greatest Show On Earth 250 Years Of The Circus
Grace Henley
|
23/04/2018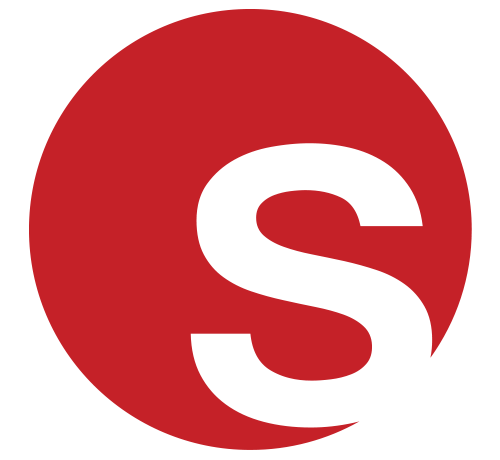 Exclusive Q&A with our fantastic Holland based street theatre company
Exclusive Q&A with our fantastic Holland based street theatre company
Grace Henley
|
02/02/2016