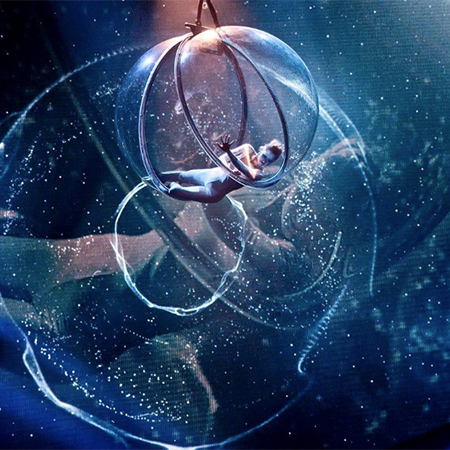 Sphere Aerialist
A stunning aerial show performed by an extraordinary sphere aerial artist
Talented aerial performer can customise her show by creating bespoke choreographies
Can perform alongside other artists like live bands, live singers or other acrobats
This skilled female acrobat has performed at the Audi Auto Expo and the Venice Carnival, among others
Book this amazing Sphere Aerialist for performances in Switzerland and all around the world
A stunning aerial show that combines elegance, strength, agility and a flawless technique, this impressive performance can be brought to your event by our amazing Sphere Aerialist. This talented aerial performer carries out a visually beautiful aerial act during which she will leave audiences
Backed by years of both academic and professional experience as a choreographer and circus performer, this skilled female acrobat is guaranteed to wow audiences and delight them with her breathtaking movements and the passion and energy of her stunning aerial show.
During this thrilling aerial routine, this skilled female acrobat makes use of a giant sphere with which she will perform overhead stunts that will. By booking this stunning aerial show, guests at your big celebration will not be disappointed.
Our sphere aerial artist can adapt her performance to fit a great range of themes. She can add style and visual flair to her aerial performance by choosing the outfit that best fits your party and performing a custom choreography in coordination with the music chosen. Our versatile Sphere Aerialist is sure to deliver a unique aerial act that will have audiences raving.
On top of that, this sphere aerial artist is always happy to perform alongside other artists, so whether you'd like her to carry out her stunning aerial show while a live band is playing or some other acrobats are performing ground routines, she will make it happen for you!
Events held by renowned brands such Audi or famous festivals like the Venice Carnival has trusted her in the past to provide the entertainment for their guests. Our talented aerial performer has also shared the stage with Cirque du Soleil's acrobats and performed alongside different artists all across Europe and Asia.
Scarlett Entertainment offers you a fantastic selection of aerialists to perform at any type of events all around the world.
To book this extraordinary Sphere Aerialist or for more information about the different aerial acts Scarlett Entertainment can offer, get in touch with us today and make an enquiry. Our wonderful team of entertainment specialists will be happy to answer all the questions you may have.
Auto Expo Zurich ( Zurich Switzerland)
Ballo del Doge ( Venice Italy)
Edeka Messe Munchen ( Germany)
One & Only Rheti Rhah New Years eve event (Maldives)
VW group event Auto Expo Frankfurt
Womanity Foundation Gala ( Geneve Switzerland)
ABC group events (Lebanon)
BWT Gala Event ( Austria )
Catrice Cosmetics L.O.V. Launch ( Frankfurt Germany)
Ferragosto di Venezia Hotel Excelsior
Pokerstars One Drop Foundation Gala for Guy Laliberte ( Monaco)
Venetian Carnival Teatro la Fenice
Audi auto  expo  ( Germany)