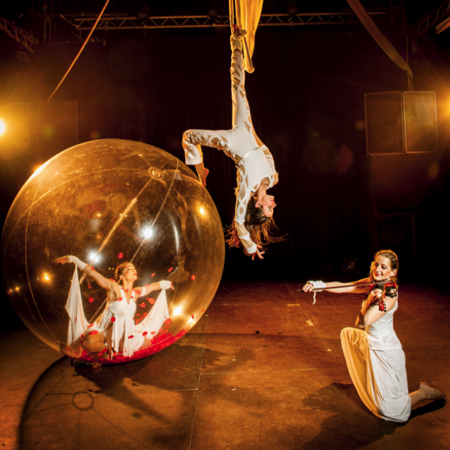 Sphere Celeste
Acclaimed theatre show with a unique combination of performance skills
Stage show includes a trio of bubble artist, aerialist and violinist
It is visual, musical, acrobatic and poetic
WOW Factor entertainment for corporate events & festivals
Based in Berlin, Germany and available to perform at events worldwide
Sphere Celeste is a worldwide acclaimed theatre show with a unique combination of performance skills.  
The stage show includes:
A trio with 1 aerialist, 1 violinist and 1 bubble dancer.
A curious flying aerial acrobat.
A sweet clownesque ice princess in her magic crystal sphere.
A graceful storyteller accompanying the dance with her violin.
The fantasy is brought to you by 3 talented soloists with extensive performance experience.  They come from backgrounds in circus, dance, aerial acrobatics, mime and music.
Sphere Celeste will intrigue and arouse your curiosity of the interesting with the unusual, of new and fascinating qualities to appeal and captivate an audience.  It is visual, musical, acrobatic and poetic.
Dealer day of Agio Cigars Kootwijk Netherlands
Opening Leiden Ontzet Leiden Netherlands
Kleines Fest im Schlosspark Festival Ludwiglust Germany
Festival City of Wings Ypres Lieper Belgium
Festival Heilige Huisjes Ootmarsum Netherlands
Cherterfield gala Netherlands
City Culture event Nieuwpoort Belgium
25 years Spirotech Helmont Netherlands
SingelFestival Edam Netherlands
Zomerterras festival Vlaardingen Netherlands
Ball of CIty Waldkraiburg Germany
Cospar Opening Awards Ceremony des Weltraumkongresses Bremen Germany