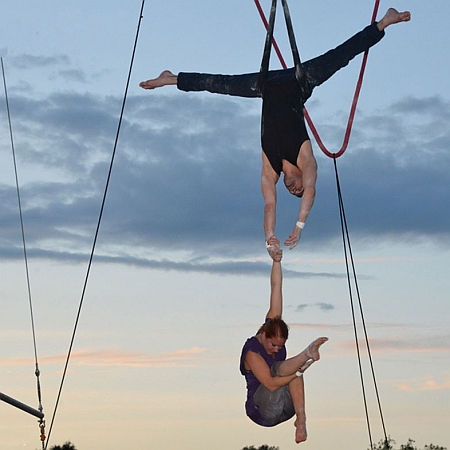 Spinning Loop Act
Breathtaking aerial performance will WOW audiences
Stunning demonstration of flexibility, strength & agility
Perform using either a fast spinning or swinging loop
Perfect for ceremonies, corporate events, theatre shows & festivals
Based in Amsterdam & available to perform at events worldwide
This stunning aerial acrobatic duo gives a theatrical, colourful and original performance in the style of the new circus. Both experience and professional acrobats they perform using either a fast spinning or swinging loop.
They will leave audiences breathless as they take aerial acrobatics to a whole new level, strapped into a flexible loop that allows them to spin in a beautifully choreographed acrobatic dance showcasing incredible balance, power and trust.
Using the swinging loop, they perform a swirling and subtly graceful dance accompanied by inspiring music, demonstrating astounding flexibility and strength, and the beauty of the bodies' form.
Each performance will provide a spectacular opening or closing to any ceremony, and is guaranteed to be the talk of your event.