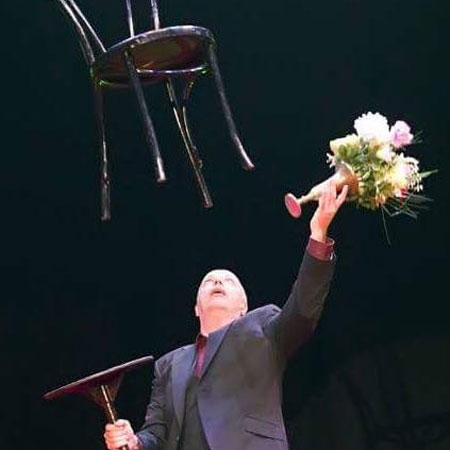 Stage Show Juggler
Unique performance combines hilarious stand-up comedy with incredible feats of juggling, balancing and physical tricks
A multilingual performer, our international juggling act can be performed fluently in German, Spanish and French
Our Stage Show Juggler has performed for heads of state including Barack Obama and Her Majesty the Queen
Blend of theatre, comedy and circus acts appeals to a broad range of audiences
Based in Oxford, UK, our comedy juggling show is available for international bookings
Stage Show Juggler PHOTOS
Braking down the barriers between stand-up comedy, theatre and circus entertainment, our Stage Show Juggler has created a wonderfully entertaining blend of comedy character and juggling in this international juggling act. 
Guaranteed to keep audiences on the edge of their seats as well as laughing out loud, our diversely talented stand-up comedian is a multilingual performer and packs a punch with a performance crammed full of original routines. 
Marvel as he displays his balancing talent, juggling café furniture before stacking them precariously on top of each other on his face before topping off the pile with a fragile vase of flowers. 
Members of the audience are invited on stage to aid him in his balancing of an upturned wine bottle, silver tray and multiple wine glasses filled with red wine. A fantastic audience participation performance for a truly exciting and engaging act, guests will delight in our stage show juggler's feats of balancing!
Watch as he performs additional entertaining routines such as juggling ping pong balls in his mouth and setting fire to his head, all while delivering hilarious stand-up comedy. 
Extraordinarily talented with languages, our multilingual performer can deliver his international juggling act fluently in German, Spanish and French, as well as many other languages to a good degree.
Having performed internationally countless times for some of the world's biggest brands including Ford, Shell, Hilton International and Sony, as well as making TV appearances, performing in circuses, and even performing for heads of state including Barack Obama and Her Majesty the Queen, our comedy juggling show is a fantastic choice for world-renowned entertainment. 
Perfect for corporate entertainment, after dinner shows, comedy clubs, cruise ships, and many more special celebrations, our multilingual performer is sure to impress with his international juggling act and stand-up comedy. 
Discover more unique stage shows on our extensive roster.
To book this incredible comedy juggling show, get in touch with our expert team of entertainment specialists. 
" Hilarious and original "

The Times